Innovative laser technology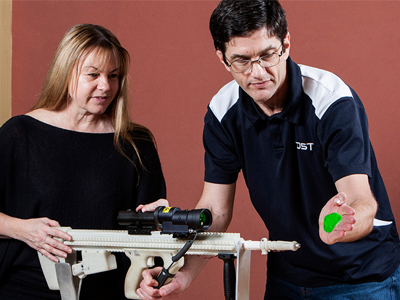 Defence scientist Olivia Samardzic and her colleagues first started looking at how to safely alert people approaching a checkpoint, without harming them, back in 2008.
"Defence forces wanted to be able to call in people in a slow and orderly fashion so we conducted studies to show that you could use a laser to get someone's attention at quite some distance even in bright daylight," Samardzic says.
"All the commercial-off-the-shelf systems we were evaluating at the time had an associated eye-safety hazard distance. In other words they were unsafe.
"If you engaged at a closer distance and the person being targeted sustained an eye injury you could potentially be brought up on war crime charges. We knew there had to be a safer way to do this."
Eye-safe laser device
The unique outcome of the research is the Eye-safe Attention Gaining Laser Emitter aka EAGLE. The small device is designed to mount on to any weapon that has a standard mounting platform, using a simple locking system.
"EAGLE is designed to be particularly useful in the military or police checkpoint scenario where people are walking or driving towards a location," explains inventor Michael Gillyon.
"Checkpoint operators want to get a person's attention in order to get them to stop. With that use in mind we developed a laser that is eye-safe at the aperture (in other words, from very close up) that can be directed onto a specific target.
"EAGLE is a low power device but is really quite bright and the beam is only 70 cm in diameter at a distance of 100 metres so you can easily place it on the target of choice to get their attention
"EAGLE, to my knowledge, even to this day, is still the only option for initiating a natural blink response that is eye-safe at zero range. This also means that if you turn around and clumsily shine it at a colleague you won't injure them."
That is an important selling point, as there have been many cases recorded of "friendly fire" using other higher-powered laser attention-gaining devices.
To the team's surprise the device also saw a lot of interest from police and border protection forces at the recent Future Land Force Conference.
"We were concentrating on the needs of our ADF clients during EAGLE's development, but police also require non-lethal options if someone is approaching them in a hostile way. They currently have Tasers, which are not always ideal," Samardzic explained.
"But if police officers can affect the vision and induce a perceived sensation of pain to a hostile person without injuring their eyes, then EAGLE is a good option for subduing someone or temporarily visually disabling them when entering a potentially dangerous situation.
"Border protection officers could also use it, for example, to engage with an unidentified vessel approaching at speed."
EAGLE's unique capabilities have been patented and the team is seeking an industry alliance to help take the product to the market. For further information on this opportunity, contact the DST Technology Partnerships Office.