International scholarship for passive radar scientist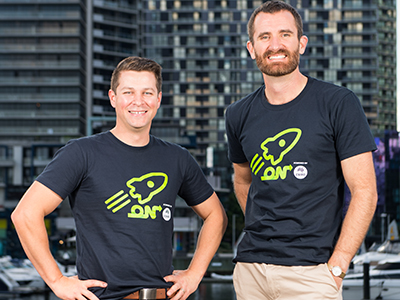 Defence scientist Dr James Palmer has been awarded the inaugural Stanford Australia Foundation - CSIRO ON Accelerate Scholarship to attend an executive course in the US.
The scholarship is awarded to an individual from a team participating in CSIRO's ON Accelerate program and has demonstrated the best 'entrepreneurial capacity'. Dr Palmer was one of 40 participants competing for the scholarship.
The ON Accelerate program is designed to coach, develop and test the best market fit for innovative ideas, empowering researchers to commercialise their work.
Under the team name Silentium Defence, Dr Palmer and his co-participant Simon Palumbo, also from the Defence Science and Technology (DST) Group, attended the 12-week intensive program that culminated in pitching their concept to an audience of 400 attendees at a Demo Day.
Using Passive Radar that uses pre-existing and non-sensor sources of radio frequency energy enables ADF personnel to not only maintain their situational awareness, but do so without advertising their presence. The ability to be aware of both active and silent objects using a sensor that is itself silent is a disruptive capability for Defence.
The team's participation in ON Accelerate was to assess the business viability of converting the Passive Radar concept into a marketable product.
"Winning the scholarship was a surprise, but I am incredibly grateful for the opportunity that this amazing award represents," said Dr Palmer.
Amazing opportunity to fast track innovation
The Silentium Defence team was one of only ten groups to be accepted to take part in the third cohort of the program.
"At the heart of the program is customer understanding. Learning how to engage with customers has really changed my thinking in terms of how to communicate our research and development," explained Dr Palmer.
"Crafting the `pitch' for Demo Day into just three minutes was quite a difficult challenge, but being given the chance to represent the team in front of the 400 strong audience was amazing.
"For anyone that may be curious about how to maximise the impact of their research, I would strongly encourage you to consider signing up for ON Accelerate."
The scholarship allows Dr Palmer to attend a Stanford University program involving innovation and entrepreneurship through the Stanford Graduate School of Business in California.