New STEM graduates at DST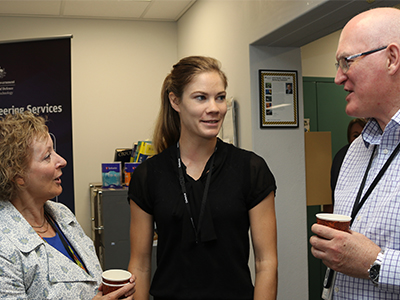 DST recently recruited five Research and Innovation (R&I) Graduates as part of the Defence Graduate Program (DGP).
The R&I program was established in 2016 as a result of a One Defence approach to recruiting high performing Honours graduates in a relevant STEM degree.
The R&I graduates will be on the program for 12 months and undertake two rotations, an eight-month rotation within DST and an external four-month rotation in another part of Defence or a different DST division. At the completion of the graduate program they will be placed in an ongoing science role with DST.
One of several inlets for talent
The Defence Graduate Program is just one of the various entry level programs in DST's career and talent pipeline. After completing a summer vacation placement in DST's Scientific and Engineering Services, Monique Hollick describes securing a graduate position at DST as a dream come true.
"Working with the Small Satellite Experimentation team allows me to work with cutting edge technology in the field I am most passionate about with other like-minded scientists and engineers," she says.
Hollick is helping deliver the capability that will monitor the Australian-developed Buccaneer mini satellite when it is launched later in the year.
Similarly, Ben Hoggan was finally able to transition from a Graduate Industry Placement (GIP) student and contractor, to a Defence employee.
"I'd worked in a few different research fields prior to coming to DST, but having the opportunity to work directly with ADF personnel, and see how my research could help them, was very rewarding," says Hoggan.
"I knew right away that this was somewhere I could conduct research that I'm interested in and enjoy, while making a positive real-world impact."
Exciting horizons
For Helen Geng, Adam Malcontenti-Wilson and Sebastian Tsui the R&I program is their first exposure to Defence and presents a new and exciting horizon where they can apply what they learnt at university to real-world problems.
"I am looking forward to working in different areas during the rotations," says Geng.
"And also relishing the opportunity to finally apply the theoretical knowledge I gained at university to practical problems at DST."
Malcontenti-Wilson is similarly applying his new tertiary skills, but in the air domain.
"Having exposure to basic simulation systems in my university final year team project I think has given me some great context to kick start my placement in the Air Operations Simulation Centre," he says.
"I'm looking forward to being able to contribute to the team here while getting the opportunity to be part of investigating interesting research problems."
Joining the R&I program after university also presents an opportunity for personal growth, says Tsui.
"For me, a challenge has been relocating from Canberra to Adelaide. Having lived a comfortable life surrounded by friends and family, I have found myself in the great unknown. Nevertheless, I look forward to the challenges ahead and establishing myself here at DST Group."
For further information on the R&I graduate program, contact zvthry.argb@qfg.qrsrapr.tbi.nh.