Forensic engineers ensure safe MRH90 operations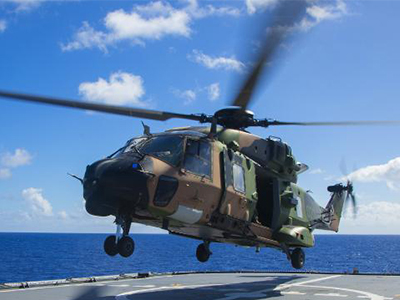 A team of forensic engineers from Defence Science and Technology (DST) Group is using unique forensic engineering techniques and highly complex computational fluid analyses of airflow to ensure the safety of ADF helicopters.
DST staff from a range of disciplines have been able to provide urgent and timely advice on the cause of helicopter flight incidents so that appropriate preventative measures can be put in place.
The latest incident involved an Australian MRH90 Navy helicopter aboard HMAS Canberra, where excessive updrafts of wind coming up the side of the ship during the helicopter shutdown process caused the helicopter blades to act erratically leading to unfavourable blade orientation.
A forensic investigation involving Capability Acquisition and Sustainment Group, Airbus Group Australia Pacific and DST was integral to the MRH90 returning immediately to service, and being able to participate in the world's largest international maritime exercise, RIMPAC which happened to be occurring the next day.
Defence Researcher, Robert Toffoletto explains that incidents such as the one on board HMAS Canberra act as learning opportunities, and they allow DST to look at ways to ensure these incidents don't happen again.
"We are able to incorporate findings from this incident to predict how the issue may effect future trials involving the MRH90 and other ADF aircraft," Toffoletto explains.
First-of-class flight trials
The ability to undertake highly complex computational analysis through simulations is a key part of DST's contribution in assisting the Aircraft Maintenance and Flight Trials Unit (AMAFTU) undertake First-of-Class Flight Trials (FOCFT) to determine the limits at which new Navy aircraft can operate at sea.
The First-of-Class Flight Trials process identifies conditions in which the ship, aircraft or equipment need to be modified to ensure safe flying activities.
"When Defence purchases a new platform, they want to test it first," Toffoletto says.
"DST works very closely with AMAFTU to do a lot of the science behind helping them make the process of conducting FOCFT safer and more efficient.
"We aim to establish guidelines for the pilots on what to look out for in certain situations when flying the aircraft at sea."
Operating guidelines differ for every combination of ship and helicopter hence there is a need to provide unique Ship Helicopter Operating Limits for each combination.
Multi-aircraft operations
One area that Toffoletto and his team are currently looking into is multi-aircraft operations, a situation unique to HMAS Canberra.
HMAS Canberra, the first of two Canberra-class landing helicopter dock (LHD) ships to join Australia's Navy fleet, has six helicopter landing spots; while most other Navy ships have only one. This means that there may be a scenario on the LHD where a Chinook helicopter is on the deck at the same time as an MRH90 for example.
"In terms of our aerodynamic expertise, we need to work out what are the safety implications of having multiple, different sized helicopters operating on the deck at the same time." Toffoletto explains.
DST's expertise in forensic engineering and helicopter systems analysis, coupled with collaborative engagement with the original equipment manufacturers such as Airbus Group and Boeing, is helping to minimise safety incidents and maximise the safety of helicopter operations at sea.