DST cyber team takes out three South Australian iAwards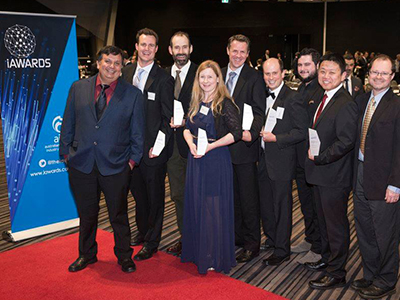 DST's Trustworthy Systems team has taken out three iAwards in Adelaide.
The team won:
Research and Development Project of the Year
Infrastructure and Platforms Innovation of the Year
Public Sector and Government Markets iAward
The team won the awards for their Cross Domain Desktop Compositor (CDDC) which allows the content from multiple computers of different security classifications to be viewed securely on a single screen.
The CDDC project is a collaborative effort between DST and Data 61/CSIRO and has potential applications in both Government institutions and the commercial market.
Team member Mark Beaumont acknowledged the invaluable support from collaborator Data61.
"Our collaboration with Data61 really helped to drive the technical development of the CDDC, as well as position it for broader exposure and technology transition opportunities."
Hosted by the Australian Information Industry Association, the iAwards are annual awards whose key goal is to discover, recognise and reward the technology innovations that may already be, or have the potential to make a positive impact on the community – at home, in the office or on a global scale.
Pictured from left:
Suneel Randhawa (Research Leader), Mark Beaumont, Chris North, Angela Billard, Bradley Hopkins, Sam Chenoweth, Patrick Prendergast, John Shield, Paul Buckland.
Missing from the photo are Jim McCarthy and Kylie Williams