ON Prime:Defence opens doors for researchers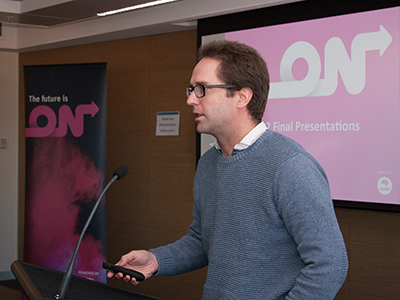 Australia's entrepreneurial landscape has expanded with a partnership between the Defence Science and Technology (DST) Group and CSIRO's ON accelerator to deliver "ON Prime:Defence", a pre-accelerator experience designed to help research teams test and discover real world applications for their work.
Teams from across the country recently showcased their work at the conclusion of the inaugural ON Prime:Defence program. Over eight weeks, the teams were encouraged to 'get out of the building', speak to customers, test and understand the value of their work by discovering applications within both Defence and the commercial market.
Five teams participated in the first program from Flinders University, the University of Queensland, the Australian Nuclear Science and Technology Organisation (ANSTO) and two teams from DST Group.
The teams brought a diverse range of research to the program, including an environmental preparedness program for deploying personnel at short notice, using machine learning techniques to assess material vulnerability, and a 3D imaging sensor that can be used as a laser airborne depth sounder from small UAV platforms.
During the final showcase teams shared their insights on how their research could deliver impact for customers in both the Defence and commercial markets and on how their big ideas had evolved during their ON Prime:Defence experience.
"ON Prime has helped us explore potential application spaces and the value proposition for our technology. We have also made a few new contacts along the way as well which is great," said Ms Joyce Mau from DST Group's SPAD LADS team. "We highly recommend the program to people who are seeking to further discover the potential application space of their research."
INCREDIBLE OPPORTUNITY
DST Group and CSIRO are building on the initial success of ON Prime:Defence and will be offering it again in the coming months.
"Our partnership with CSIRO through the ON accelerator is an important part of the Defence Research Accelerator. It's a great opportunity for researchers to find a pathway to market for their work and has potential to deliver real impact to Defence and national security," said Greg Denehy, who is leading the Defence Research Accelerator program under the Next Generation Technologies Fund.
"We're looking for science and technology with the potential to provide Defence capability that might also have dual-use applications in the commercial market. We've seen the strength of the ON program with the Silentium Defence team taking part in ON Accelerate earlier this year and with the teams that have just completed ON Prime:Defence. If you think your research has applications for Defence and national security, participating in ON Prime:Defence is a great way to find out," Mr Denehy said.
Applications for the next intake of ON Prime:Defence will open July 3rd through to July 28th. Details will be available on the ON website: http://oninnovation.com.au/