Powering the future of submarine fleets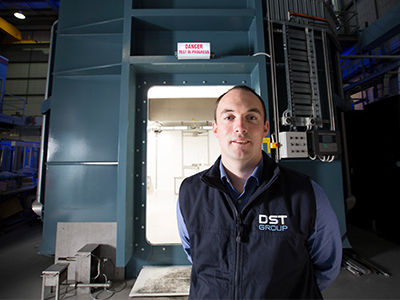 Defence researcher Kane Ivory is charged with establishing DST's Lithium-ion (Li-ion) Battery Safety Research Facility.
Over the last few years, Ivory and his DST colleagues have been working to build that capability, while collaborating with US experts at the Naval Surface Warfare Centre in the United States.
Australia's existing Collins Class submarines are conventionally powered by diesel engines and a lead-acid Main Storage Battery. Li-ion batteries are an exciting new technology that many navies around the world are considering for future upgrades of their submarine fleets. The potential benefits of this technology include improved endurance (particularly at sprint speeds), efficiency and operational life, but they come with new safety risks, primarily due to the flammable nature of the electrolyte used in Li-ion batteries.
In-house testing
In order to provide relevant scientific advice to the Royal Australian Navy, DST started researching lithium-ion technology and began the design and construction of a world-class Battery Safety Research Facility several years ago.
Initial testing commenced last year in the new facility, which consists of a custom designed chamber.
"The chamber has an impressive suite of safety features and instrumentation, including electrical, temperature and heat flux sensors, infra-red imaging and an exhaust system with integrated gas analysis for real-time calorimetry measurements," Ivory explains.
"There is a large range of safety tests to conduct on lithium-ion batteries; it boils down to identifying the worst case failure scenario(s) for a particular application and capturing the relevant information on how and when the failure occurs to enable a system design to effectively mitigate that failure."
The impact of failures observed in commercial applications underscores the importance of further research in this field. The unique requirements for military applications, and in particular submarines, combined with the environmental conditions for Navy areas of operation, add an additional level of complexity and reduce the applicability of much of the existing literature.
"We're now close to being at full operational capability for our new facility at DST," Ivory says.
The facility will allow researchers to investigate a number of areas including the impact of different battery state of charge and how aged cells behave compared to new cells during failure.
"This research will give us a better understanding of potential issues over the life of Li-ion batteries and enable DST to provide relevant advice to the Navy if it becomes necessary to assess any lithium-ion Main Storage Battery designs in the future."