Predicting and diagnosing mental health disorders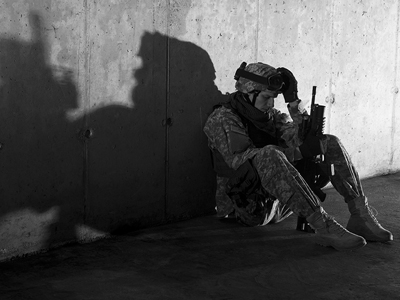 DST research suggests that chemical features in biofluids could be linked to mental health.
DST scientist Simon Ovenden is studying the molecules in human cells known as metabolites in the hope of identifying a list of biomarkers that will help clinicians diagnose certain mental health disorders, particularly post-traumatic stress disorder (PTSD).
PTSD is a difficult disorder to diagnose and even with the most rigorous psychological assessments, it can be easily missed. Any biomarkers that could be used to confirm assessments would be valuable.
Ovenden explains, "Current biomarkers are quite non-specific and could be related to other conditions, so I'm hoping to identify more robust markers."
He notes that with only a single paper written on this area of research, there is a lot of work to be done.
"Not a lot of research has been carried out about the metabolomics of mental health, compared with that for cancer, for example," Ovenden says.
In 2010, the University of Adelaide's Centre for Traumatic Stress Studies released a report that revealed that 54% of respondents had experienced a mental disorder in their lifetime, compared with 49% of the general population; and indicated a significant increase in depressive orders and PTSD in the ADF over the normal population. In particular, the 12 month prevalence of suicidal tendencies in the ADF was 4% compared with 1.8% in the general population.
Working with scientists from the University of Melbourne and the Centre for Traumatic Stress Studies, Ovenden hopes to analyse blood samples taken from Defence personnel posted to the Middle East Area before deployment, immediately after deployment, and five years post-deployment, and correlate that data with relevant mental health information.
He believes the research will yield significant benefits for the ADF.
In addition to his PTSD research, Ovenden has also undertaken a study of possible biomarkers of schizophrenia, another disorder that is tricky to diagnose.
The research requires a complicated process of mass spectrometry. It took six weeks to prepare the 158 samples for analysis. After pre-processing and multivariate analysis, Ovenden found 31 positive compounds and 18 negative compounds of interest. Drawing on chemistry databases he has identified 14 of them, and is continuing what he describes as a process of "reverse jigsaw puzzling".
"We have the complete jigsaw, and we smash it apart to identify the individual components and better understand the larger molecule."
Some of these potential schizophrenia biomarkers are upregulated (people suffering from schizophrenia have more of the chemical) and some are downregulated.
For example, 5-hydroxindole acetic acid 5-HIAA, which is the main breakdown metabolite of serotonin, has a 9 fold increase in levels in people with schizophrenia.
"Some of the things we've found have confirmed what I expected, such as the involvement of lipids. Others have been unexpected and very interesting, such as the presence of serinyl-serine.
"Ultimately, biomarkers might allow the ADF to identify personnel predisposed to mental health disorders, not to preclude them from activities, but so that appropriate interventions can be put in place as soon as possible once diagnosed. The sooner that treatment and therapy can be put in place, the better the prognosis."