University initiative to boost defence capability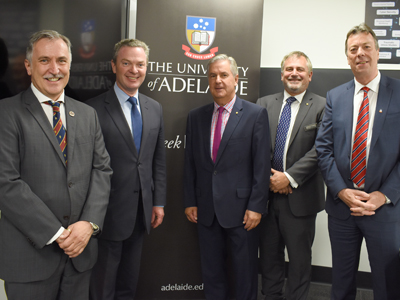 Minister for Defence Industry, the Hon Christopher Pyne MP, today launched the Defence Research and Innovation Network (DRIN) at the University of Adelaide, aimed at strengthening engagement between the university and the Defence sector.
Minister Pyne said researchers from industry and Defence will be co-located across 25 sites within the University.
"This initiative will make a vital contribution to research collaboration in support of Defence capability," Minister Pyne said.
"I congratulate the University of Adelaide on its commitment to Defence research collaboration, and for proactively setting up the tools and facilities for success."
"The sites will closely align to capability areas of Defence interest, with the first sites being the trusted autonomous systems laboratory, and the institute for photonics and advanced sensing."
The university is also involved in projects for the Next Generation Technologies Fund, conducting 10 early stage research projects in areas relating to intelligence systems, trusted autonomy, autonomous tactical networks and unmanned vehicles.
"I look forward to seeing game-changing research outcomes from this initiative in keeping with the world class reputation and traditions of this great South Australian university," Minister Pyne said.
Defence is the University of Adelaide's largest research partner with 157 agreements negotiated since July 2014, valued at $13 million.