Defence scientists from five nations converge on Adelaide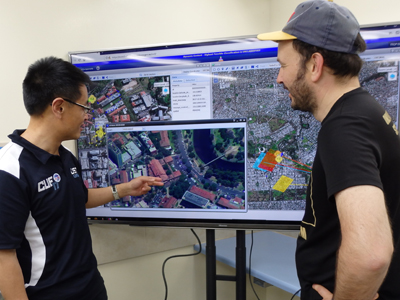 Defence scientists from five nations are working shoulder to shoulder alongside the military in a field research activity now underway in Adelaide's CBD and RAAF Base Edinburgh.
The Contested Urban Environment Strategic Challenge (CUE Adelaide 17) is being conducted at the old Adelaide Dental Hospital and nearby accommodation building. It involves more than 100 Australian Defence Force members and 80 researchers from Australia, New Zealand, the United Kingdom, Canada and the United States.
The purpose of CUE Adelaide 17 is to investigate new and emerging technologies that can improve the intelligence, surveillance and reconnaissance capabilities of soldiers when operating in cities during conflict so there is less risk to them and the civilian population.
One wing of the old hospital has now been turned into an operations centre where international researchers have begun monitoring soldiers as they test the new technologies in mock operations around the old Adelaide Dental Hospital.
The area around the old Dental Hospital has been signposted and the public has been advised they may see ADF personnel in the area carrying military equipment while participating in CUE17.
CUE17 forms part of multi-year program run by The Technical Co-operation Program, of which Australia is a member.