Joint study will improve environmental management for marine animals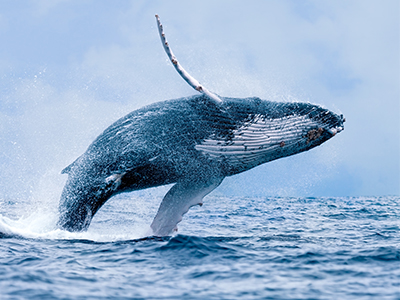 DST and four Australian universities have completed a comprehensive study that will lead to better environmental management for marine animals.
The Behavioural Response of Australian Humpback Whales Seismic Survey (BRAHSS) was a $9.5 million international project in which the reactions of humpback whales exposed to noise were studied while they migrated along the Australian coast.
Defence, and particularly the Royal Australian Navy, are interested in the outcomes of the study because large numbers of whales annually migrate through key Defence offshore exercise areas.
Navy already has special mitigation measures in place to ensure its activities as far as reasonably practicable do not adversely affect whales and routinely reviews its procedures when new information becomes available.
The seven year project involved extensive field work and data collection by teams working along the Queensland and Western Australian coasts.
While the findings are still being analysed, the results show whales tend to change their movements to avoid noise sources. This study will inform the Royal Australian Navy's use of sonar and marine operations by the oil and gas industry.
The project was a collaboration between DST scientists and researchers from Sydney, Queensland, Newcastle and Curtin universities. It was funded by the International Association of Oil and Gas Producers and the United States Bureau of Ocean Energy Management. It was led by DST's Maritime Division and Professor Doug Cato who has more than forty years experience researching sonar performance and ocean acoustics.