Understanding explosions on board maritime platforms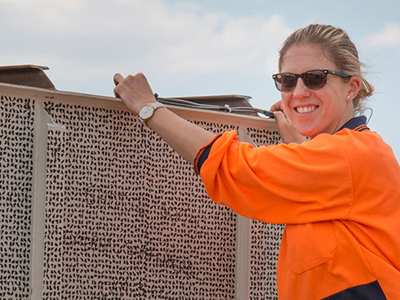 An explosion rocks a below-deck storage compartment in one of Australia's new frigates – what will unfold? Defence Science and Technology (DST) researcher Vanessa Pickerd and colleagues are connecting the dots.
The team recently completed another blast trial in a series that is adding to their arsenal of test data, to help validate their models and improve failure predictions on board maritime platforms.
"To assess the exposure of maritime platforms to blast events we need to know how structures will respond to blast loading. In other words, we'd like to be able to predict the type of damage that can be expected to different structures for different types of applied pressure and impulse," Pickerd explains."
Traditional damage algorithms predict either failure or survival, but no further details about the type of failure. There's an important difference between an entire wall blowing out which can damage other equipment, or it could buckle and affect platform stability."
Scaling down to increase tests
This program is developing a data set for medium scale 'compartments' (as opposed to full scale ship compartments or containers) which reduce manufacturing and logistical costs and that means more tests, which is a good thing. Understanding how these blast events scale is also important when the ultimate goal is to analyse an entire ship. The size of the compartments remains consistent while the charge size and wall thickness of the compartments varies to provide a range of loading and plastic deformation.
All this activity is captured using non-destructive testing, high speed video analysis, and strain and pressure measurements to determine structure conditions for each explosive load.
"Ultimately we aim to be able to provide recommendations on the steel selection for the Future Frigate and understand the structural vulnerability of the platform in terms of the structural performance during a weapon strike," says Pickerd.
The data captured during the recent trial is still being analysed but will contribute to accurate modelling of weld strength under extreme conditions. Such modelling is not yet possible, but remains a priority that will feed into a collaboration between DST and the Defence Materials Technology Centre (DMTC).
"Being able to work with external partners allows us to look at things from a different perspective and leverage each other's skill sets in order to provide Defence with the best outcome." Pickerd says.
Pickerd was recently awarded the DMTC Early Career Award for her contribution to the partnership between DST and DMTC.