Full steam ahead in DST's environmental test chamber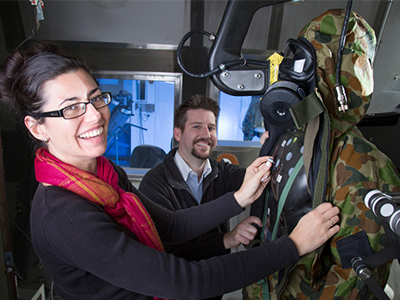 The Vapour System Test is a significant capability that allows DST to provide scientific and technological advice on a selection of ensembles, and an understanding of the performance of current in-service equipment.
"Developing a system with capability to assess the protective capacity of equipment against chemical threats has been a huge body of work, it enables our scientists to assess how all of the individual protective equipment works together." says DST researcher Julia Freeman.
The threat of indiscriminate use of chemical weapons still exists, so being able to prove that Defence's protective equipment will perform and keep our people safe is of the utmost importance.
The Environmental Test Facility (ETF) enables full system testing which helps Defence understand the implications of various types of equipment being acquired.
"Often equipment is purchased in different cycles and we need to understand how the new piece of equipment integrates into the current system," explains Freeman.
"Our research also helps understand how other equipment worn by a soldier affects vapour protection. For example, does a helmet disrupt the respirator or compromise one's chemical protection?"
Freeman adds that "Historically, testing has been done on small swatches of fabric. While we get a lot of information about that tiny piece of fabric, in reality our soldiers and first responders wear full garments and we need to know how they perform,"
"With the ETF, we can replicate just about any environmental conditions on Earth, from dry heat to tropical rain forest - I can almost get it to snow.
"We've worked with other DST teams to assess sub-zero degree sleeping bags, and curing times for adhesives in tropical environments."
After many test trials and use of the manikins to replicate human movement, Freeman notes that their system has become more refined.
"Our method is robust and fast, we can process all the samples from a full manikin test, including validation checks in less than half a day,"
"This investment is really paying off for Defence, our soldiers have greater confidence in their equipment, and we're enabling Defence to make better acquisition decisions."