Essington Lewis Award for DST's radar absorbing technology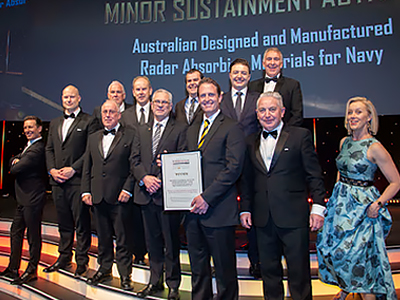 DST and Mackay Consolidated Industries received a joint Essington Lewis award at the D+I Conference Gala Dinner on 1 August.
The award was presented in the Minor Sustainment Activity under 20 million category. It was received by Andrew Amiet on behalf of DST.
CDS Alex Zelinsky congratulated the team on their success.
The award was for radar absorbing material developed by DST and manufactured by Melbourne-based company, Mackay Consolidated Industries.
Industry partner Forward Defence is fitting the novel material to the RAN's submarines and surface ships to reduce their signature and increase their survivability in threat environments.
The citation said "Based on a material first used in the submarine fleet, this SME (Mackay Consolidated) and Defence (DST) have fitted an Australian designed and made product in a massively compressed time frame for literally a fraction of the budgeted cost. Demonstrating innovation on numerous fronts, this program delivered a world-class capability to the FFG fleet with industry working with DST Group and the RAN to a common aim."
DST's Defence Experimentation Airborne Platform (DEAP) was a finalist in the Support/Services category.
Other winners included Helicopter Aircrew Training System (Boeing/CASG), Maritime Multi-Satellite Communications Terminal (EM Solutions/CASG), Transformation of Classic Hornet Sustainment Support (Boeing/CASG) and JORN Upgrade (Jacobs/CASG).
DST has played a key role in all these projects.