DST extends its partnerships at Land Forces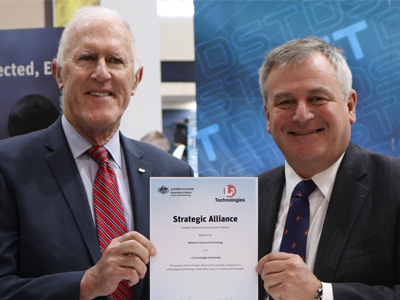 DST has used the Land Forces 2018 industry exposition to extend its partnerships with local Defence industry, signing a new strategic alliance with L3 Technologies and a collaborative research agreement with Daronmont Technologies.
The alliance with L3 Technologies marks DST's 15th strategic alliance with industry and public-funded research agencies.
"Our strategic alliance partners are chosen with great care," Chief Defence Scientist, Alex Zelinksy said.
'We aim to collaborate with the best, and L3 Technologies has expertise and experience that we value. That makes them the ideal partner for us."
DST will work with L3 Technologies across a range of research areas in the maritime domain, including undersea command and control systems, spectrum sensing and shaping and cyber assurance technologies.
One of the first areas of collaboration will be in submarine communications, looking at the ability to use different frequencies and communicate at greater distances, and use new and existing undersea networks to enhance communications.
DST's newly signed collaborative Research & Development program with Daronmont Technologies will focus on complex high-technology electronics and software-intensive systems for Defence applications of the future.
"Daronmont Technologies is one of the really great success stories of the small business sector in Australia," Dr Zelinksy said.
"We have been collaborating with them for more than 15 years. They enhanced the High Frequency Surface Wave Radar we developed and transformed it into the Surface Wave Extended Coastal Area Radar (SECAR) which has been formally accepted by the Australian Government for trial and provides Defence with a capability to monitor Australia's northern coastline."
The collaborative R&D program with Daronmont Technologies will also contribute towards advancing Defence's intelligence, surveillance and reconnaissance capabilities, a priority under the Next Generation Technologies Fund.