Defence capabilities to benefit from strategic alliance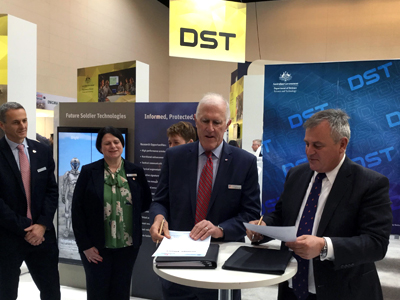 Defence technologies are set to take a big leap forward with a new strategic alliance between Defence Science and Technology (DST) and L3 Technologies.
Minister for Defence, the Hon Christopher Pyne MP, said the alliance will focus research on new technologies in undersea command and control systems, spectrum sensing and shaping, and cyber assurance.
"The government is investing $80 billion in Australia's future submarines and future frigates which need to be backed with advanced maritime technologies," Minister Pyne said.
"I welcome this alliance which will drive innovation, as our Defence scientists and leading maritime industry partners collaborate to deliver new capability solutions for Defence."
Enhanced underwater maritime communications is the first research topic to be explored under the strategic alliance, demonstrating the joint commitment to research and development, where both parties share the risks and rewards.
The alliance agreement was signed by the Chief Defence Scientist Dr Alex Zelinsky and Mr Alan Titheridge, CEO of L3 Technologies, at the recent Land Forces event.
"With L3 Technologies now on board, DST has strategic alliances with 15 Defence primes and public-funded research agencies," Minister Pyne said.