Defence scientist honoured for JSF innovation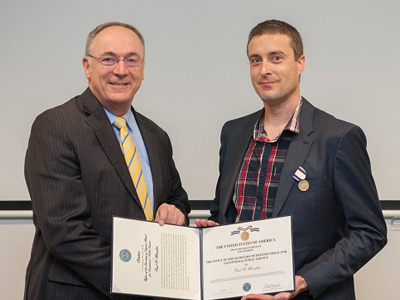 Minister for Defence the Hon Christopher Pyne MP, today congratulated Australian Defence scientist Paul Marsden on being awarded the US Secretary of Defense Medal for Exceptional Public Service, the highest award of the US Office of the Secretary of Defense for a non-US civilian.
Mr Marsden has been recognised by the United States (US) Secretary for Defense for developing software estimated to save more than US$33 million over the life of the F 35 program.
Minister Pyne congratulated Mr Marsden on his innovative work that converts raw flight data into an easily readable form.
"I commend Paul Marsden on his exceptional work which has enabled Australia's F-35 aircraft to be more affordable and sustainable."
"This data conversion software means the Joint Strike Fighter program will save on recurring costs by no longer relying on the original equipment manufacturer to interpret the data," Minister Pyne said.
The F-35 Joint Program Office will also use the converted data to support maintenance issues that require urgent attention, making further savings in indirect costs.
"Paul is the third Australian Defence scientist to receive this prestigious award in the last four years, which is a great indicator of Aussie ingenuity and the calibre of personnel going to the United States for postings," Minister Pyne said.