Cortex keeps an eye on the sky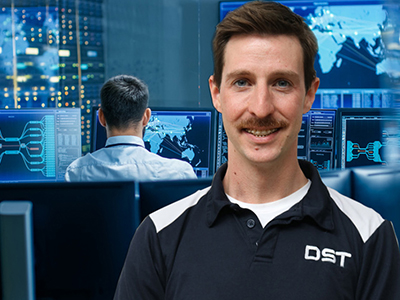 A system developed by DST is taking a smart look at Defence's satellite communications.
Cortex is a prototype satellite spectrum monitoring system that combines communications planning information with live spectrum monitoring and equipment control in a form tailored to the workflow requirements of Defence satellite network operators.
Computer scientist Nick Manser has been with Cortex from the beginning. "What started off as a monitoring and management system has expanded into more of the research side of things," he says. "From the start we've worked closely with the operators to understand their role and identify places where we can improve their job and make it easier."
Defence uses satellites for communicating with units beyond line of sight, employing a constellation of geostationary satellites. Defence network operators are responsible for getting links up and running according to communication plans, doing the on-ground technical setting up and assisting users in the field if they need help.
Significant enhancement to situational awareness
The team first trialled Cortex in 2013 in the lead up to Exercise Talisman Sabre, and since then it has provided significantly enhanced situational awareness and the detection of anomalies across Defence's satellite network.
In 2015 a separate operational capability was set up with dedicated satellite antennas that can be accessed remotely from Canberra to monitor all the signals being transmitted by its satellites. It's a constant eye on the sky, helping the network operators better understand what is happening over those links.
DST scientists continue to refine Cortex, adding new features and interacting with Defence clients to showcase the latest features and elicit feedback to ensure the system meets changing requirements.
Cortex is being further developed with industry under a Bi-lateral Collaborative Research Agreement. The three-year agreement will explore new algorithms, concepts and techniques for advanced satellite communications and electromagnetic spectrum operations and management.
Distributed system design benefits
Cortex's other important feature is that it is a distributed system – it can be deployed anywhere Defence has a satellite antenna. "Moving forward with new satellites that use very small beams, the network operators in Australia won't necessarily observe the information being sent to users in the field," Manser explains. "The distributed nature of Cortex will allow data from antennas all around the world to be shared to build up situational awareness. As Defence's reliance on satellite communication increases, Cortex will become more important in helping ensure they are operating as expected."
The hardware side of Cortex is also impressively modular to contain all the spectrum monitoring and support equipment. Once the Cortex hardware is plugged into the satellite antenna, it starts feeding data back into Cortex.