SCINDICATE 2019: Partnering for Impact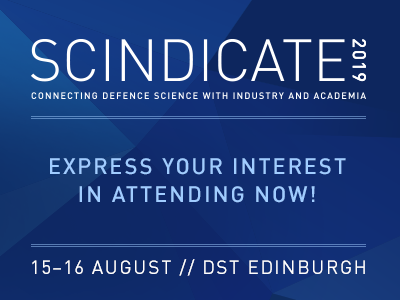 Defence Science and Technology (DST) will hold its flagship partnership event on 15-16 August 2019 at its Edinburgh laboratory in Adelaide, South Australia.
DST's popular annual partnerships event is ready to rock and roll again this year at Defence's largest science and technology laboratory in South Australia.
The theme for SCINDICATE 2019 is Partnering for Impact.
Once again, industry, universities and research agencies are invited to participate in the two-day activities which will include technology demonstrations, business matchups, workshops, briefings and laboratory tours, as well as opportunities for networking and forging new collaborations. A Next Generation Technologies Fund Showcase will be a special feature of the event.
Expressions of interest for the event have now closed. However, for more information about the event, email Fpvaqvpngr@qfg.qrsrapr.tbi.nh.
The name SCINDICATE abbreviates Science (Sc) and Industry (Ind) and is pronounced syndicate, meaning a group of individuals or organisations combined to promote a common interest; in other words, partnership and collaboration.