Defence science early career achievers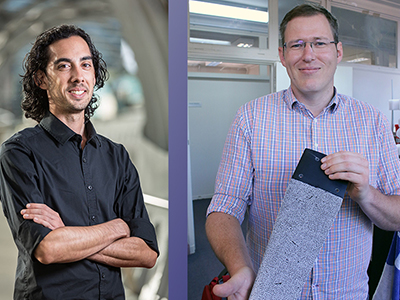 Defence scientists Dr James Brooks and Daniel Butler have come a long way in a short time at DST, and both have been lauded for their outstanding early career achievements.
Brooks, who has a PhD in cognitive psychology, was recognised for excellence in human-machine interface design and prototyping, experimental design and data collection. In 2017 he spent six months on an industry placement with AOS Group, developing an innovative "human-on-the-loop" interface to control multiple autonomous vehicles as part of the Intelligent Watch Dog project. James says the design of autonomous system interfaces is a new area of research, requiring one to refer back to basic human factors design principles. As part of the AOS Group collaboration, DST scientists can continue to develop the interface for further interface design research.
"It's a generic interface, part of the specification was that it had to be high-level. It doesn't matter if it's a ground, air or sea surface drone – the interface just shows the important information, like when the vehicle is going to reach its target (in this case an intruder)," Brooks says. "Because the drones are autonomous you don't really need to show more information than that."
At Defence's high-profile Autonomous Warrior event last year Brooks was part of an evaluation team working with UK and US counterparts to assess operators and get their feedback on the Allied IMPACT (AIM) system interface. He developed automated assessment and review technology as part of that task.
Defence science diversity is the key to job satisfaction
"I enjoy the good diversity of work that's come my way," Brooks says. "I'm not spending every day in front of a computer – I get to do hands-on stuff, servicing the networks and integrating different systems together."
Butler, a hydrodynamics researcher, has made significant contributions to the development of DST's experimental and computational modelling capabilities in the field of hydrodynamics, greatly adding to DST's capacity to undertake high quality studies. He joined DST as a University of Queensland mechanical and aerospace engineering graduate, having previously worked as a fitter and turner. Mechanical trade skills and insight have been a big plus in his current DST role, particularly during trials work in the cavitation research facility at the University of Tasmania.
Butler's breadth of talent and commitment to excellence were commended in his nomination for the DST early career award. This work has included designing force balances and miniature pressure probes to conducting and analysing results from computational fluid dynamics studies. Another example is the data processing he developed for the team's digital image correlation trials. This is a capability that allows the team to determine the mode shapes and frequencies of the deformations of underwater surfaces from thousands of individual data points across 40,000 individual images.