South Australian start-up commercialises DST radar technology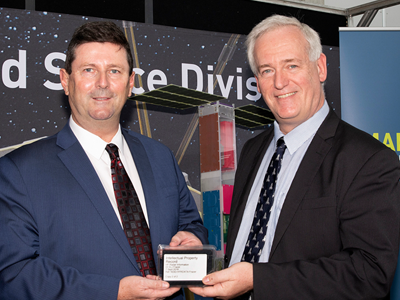 DST has signed an agreement that will assist a small South Australian start-up to further develop and commercialise DST technology for the next generation of high frequency radar.
The 10-year agreement was signed with technology company, FrazerLab during DST's flagship industry engagement event, SCINDICATE.
FrazerLab provides specialised services in high frequency radar and related support systems to clients in Australia and the United States.
Chief Defence Scientist, Professor Tanya Monro described the agreement as ground-breaking and a future roadmap for DST in fostering new defence industries.
"The agreement is a valuable example of how DST can successfully spin-off intellectual property to new start-up companies while at the same time strengthening Australia's defence industry, enhancing future Defence capability and boosting exports."
Professor Monro said that it was important that DST align itself with small start-ups and that the transfer of DST's intellectual property "was critical in fostering new defence industries to meet the unique capability needs of the Australian Defence Force."
"I congratulate FrazerLab on this agreement and I wish them every success in the future," Professor Monro said.
The commercialisation agreement was signed by the Chief of DST's Intelligence Surveillance and Space Division, Mr Andrew Seedhouse and FrazerLab Chief Executive Officer, Dr Gordon Frazer.