Building the national medical countermeasures program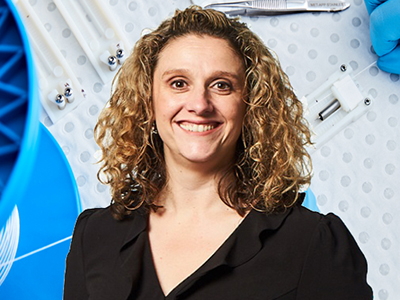 Dr Felicia Pradera, DST's program manager for medical countermeasures development, is on secondment to DMTC (formerly known as the Defence Materials Technology Centre) where she is working to grow the national medical countermeasures (MCM) program.
Over the past few years, antimicrobial resistance has become an area of growing concern for our health security, and Pradera says discussions about whether Australia is adequately prepared for a future pandemic should be a key issue on our national agenda. Several of Australia's most concerning drug-resistant bacteria could also be threats to the military. Other pathogens, such as the bacterium that causes anthrax, have the potential to be both a public health concern and a biological warfare agent.
The national medical countermeasures program encompasses vaccine, therapeutic and diagnostic response to chemical, biological and radiological threats, emerging infectious diseases and pandemics. The program has been backed by funding and ongoing support from CSIRO, and DST through Defence's Next Generation Technologies Fund.
"It's more important than ever that Australia builds its capability and capacity to deliver MCMs in response to infectious disease outbreaks," says Pradera. "Collaborations between government agencies, research institutions and the private sector are the most effective and timely way to address such concerns. The MCM program enables this kind of collaboration to facilitate and accelerate R&D for vaccines, therapeutics and diagnostics that will benefit both Defence and the broader Australian community. The program also facilitates collaboration with a range of international bodies to share the burden of developing products to counter potential threats."
Audits point to capacity and capability
Pradera conducted audits of the Australian medical countermeasures ecosystem in 2012 and 2017 and has another scheduled for late 2020. "We've been able to show that Australia has a capability and it is scalable," she says. "Part of this program is about developing skills so that when a chemical or biological threat emerges we can identify teams that can be part of the pipeline, and we can trigger action and get those people working together to find a rapid solution."
Pradera is confident that, with the right management, collaboration and investment, Australia has the novel ability, industry and infrastructure to deliver a strong MCM product development system that would provide significant opportunities for jobs, skills and manufacturing growth as well as protecting Australian lives against chemical, biological or radiological threats, whether natural or manmade.
Read the full article by Felicia and colleague Madeleine Walters "Tackling the growing threat of anti-microbial resistance" at the ASPI site here.