Defence designs face shield in record time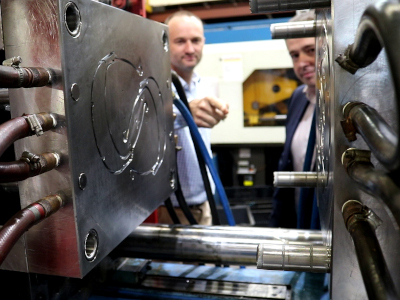 Defence has applied its unique engineering expertise to rapidly design and support the production of face shields to protect healthcare workers.
As part of Defence's contribution to the whole-of-government response to the COVID-19 pandemic, Defence Science and Technology (DST) moved swiftly from the initial concept stage right through to enabling mass manufacturing capability in just three weeks.
"Public servants were asked to focus their efforts on Australia's coronavirus response, so DST came up with a plan to produce face shields domestically," said Ben Barona, Program Leader Research Engineering within DST's Research Services Division.
"We often need to rapidly respond to Defence and national security challenges by generating engineering solutions, and we've used the same approach to help get protective equipment to frontline healthcare staff."
The first step was for engineers based at DST Edinburgh in Adelaide to engage with South Australian hospitals to better understand their personal protective equipment (PPE) needs. The engineering team also looked to learn from similar projects in other parts of the world.
Defence considered a range of existing face shield designs, and used DST's advanced 3D-printing capability to make prototypes that were distributed to hospitals for evaluation. This all-important feedback from users enabled the Defence engineers to confidently push ahead with their own lightweight design.
DST's mechanical engineers were tasked with inventing a new design suitable for production and use in Australia, after user evaluation revealed that the elastic straps used in other designs could be a source of virus transmission when these face shields are worn for long periods.
"We came up with a design that didn't rely on elastic, and hence was a lot easier to disinfect and reuse," explained Barona.
DST then turned to Axiom Precision Manufacturing, which was already accredited to produce medical devices and has previously worked in partnership with Defence on other projects.
The new design was transferred to the South Australian company, and DST assisted with tooling to kick-start the manufacture of face shield components using plastic injection moulding.
Axiom is capable of producing two face shield headbands in 40 seconds. The company is aiming to manufacture about 1,000 components each day, but this rate could increase as the production process matures.
The new face shield design has been approved for use by the Therapeutic Goods Administration as a reusable medical device, and a first batch of 600 has been delivered to SA Health.
Barona observed that seeing Defence and its industry supply chain responding so quickly is both impressive and reassuring.
"The pandemic has changed the way we look at our reliance on other countries for imports," he said. "The outcome is that we've demonstrated that Australia can produce its own personal protective equipment to protect ourselves in all sorts of situations.
"I'm also passionate about supporting the Australian manufacturers and keeping jobs in Australia, and these face shields are one example of a commercially viable product for local manufacturers."