The Internet of Things: here, there and everywhere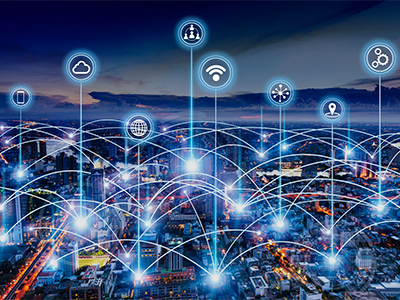 The Internet of things (IoT) is influencing our lives, from smartwatches tracking our daily activities and health, to smart homes with light globes, thermostats, cameras and media players working together. But how can this global network of 'things' connected via the internet, be used to enhance Defence capabilities?
Dr Mark Jasiunas is leading DSTG's research into the Internet of Military Things (IoMT), advising Army on how this new technology may affect operations now and into the future.
"We want to improve warfighter situational awareness in order to protect them and their mission," says Jasiunas. "With networks everywhere and easy access to low-cost sensors that are power efficient and small, we're continually learning how to best use the Internet of Military Things to support this objective."
Dangers on the battlefield are sometimes hard to see and can be life-threatening for soldiers on the front line. Keeping them well informed is paramount. IoMT allows small sensors with built-in smarts to be distributed throughout the environment, placed on the ground, thrown, worn, carried by small drones or on vehicles, reporting information in real-time.
Myriota partnership explores miniaturisation
The miniaturisation of sensors and supporting infrastructure allows for the soldier to assemble and configure different functions on a device, giving the soldier flexibility as to what these devices could do, including communicating in multiple ways via satellites. DSTG has partnered with Adelaide-based start-up, Myriota to explore these possibilities.
According to Jasiunas, the potential of prototypes DSTG has developed in partnership with Myriota was demonstrated at trials such as Contested Urban Environment 2018 (CUE18).
At CUE18, in a very encouraging demonstration, DSTG deployed five prototype devices that communicated directly with a low earth orbit satellite. The satellite then connected to the internet via ground stations on Earth. The devices sent small bursts of data, containing their location, a timestamp and their state. As these types of devices are cheap and getting cheaper, hundreds could potentially be seeded across a battlefield to collect pertinent information.
The DSTG/Myriota team hopes to run a trial in the near future in a simulated contaminated environment with a virtual plume of toxic chemicals.
"For that trial we want to test new sensors, hardware and communication links over a very large area," explains Jasiunas. "The low earth orbit satellites will allow for wide dispersion of sensors that could be hundreds of kilometres apart. When you have thousands scattered across a battlefield, all working together, it becomes difficult to disrupt the capability as a whole."
Ensuring the accuracy of the data and reliability of the infrastructure is critical, but displaying that information to the soldier in a meaningful way is another challenge entirely.
"We want to fuse the data in a way that enables the soldier to make more informed and quicker decisions. Raw data means nothing, we need to translate it from a binary string into useful information. For example: 'The wind is moving north-westerly at 30km/h so the chemical threat will subside in 5 minutes. The area will be safe to enter then.'".
For companies like Myriota and defence scientists like Mark, the rapid advancement in sensor, energy and communications technologies is ushering in an exciting, ever-evolving future. For Defence, it's a future where IoMT systems scattered throughout the environment are constantly updated with new software to adapt to changing situations, receiving new self-protection countermeasures as new threats arise, and new tasks as battle plans evolve.
New IoMT partnership with DEWC Systems
DSTG recently established a long-term collaborative R&D program with South Australian company DEWC Systems to develop sensors and interfaces for IoMT systems. The program will focus on increasing the utility of IoMT technologies and developing a range of prototype IoMT sensors potentially covering: chemical, biological, radiological and nuclear; electronic warfare; acoustic; and biometric capabilities.
Defence Minister Linda Reynolds says the September launch of a rocket carrying a DEWC Systems sensor payload developed for Defence marks an exciting future for Australia's space capability. "The rocket is unlike any rocket ever launched in Australia, and is part of what is known as 'new space' technologies – small rockets carrying reduced sized satellites using commercially available technologies," she noted.
DSTG is looking to advance the adoption of open architectures and standards for land platforms and also support the transition of sensor technologies already developed by DSTG into IoMT networks.
DEWC Systems, based at Mawson Lakes in South Australia, has been working to develop IoMT interfaces and develop cyber-resilient IoMT devices. The sensor launched recently is an example of the radiofrequency payloads for satellites that DEWC is developing under a Defence Innovation Hub contract sponsored by Air Force Headquarters. These payloads would provide Defence with an in-country capability to support fielded IoMT networks.
DEWC Systems CEO Ian Spencer says his team is proud to develop a sovereign capability for IoMT networks in collaboration with DSTG. "This presents a great opportunity for us to build capability and capacity in an IoMT workforce, that has significant spin-off opportunities to industrial IoT networks and develops new export markets."
Defence scientist Dan Nesbitt is collaborating with DEWC Systems. "DSTG research brings together advanced technologies and domain application expertise that will create innovation and capabilities for Defence," he says. "Our intent is to have scalable, transposable composition of smart connected things that can be applied in many applications across Defence."
Read more – The Fight Recorder – an IoMT soldier-monitoring device
The Fight Recorder is an NGTF-funded IoMT project involving DSTG and private enterprise Myriota and iMeasureU. The Fight Recorder is a tiny wearable recording device for reconstruction not just of the location of the wearer but what they were doing.
This project, funded by the Next Generation Technologies Fund, has been very successful, bringing together three partners focused on achieving an outcome for Defence and the wider consumer market.
Read more about the Fight Recorder here.