Disease forecasting tool invaluable in COVID fight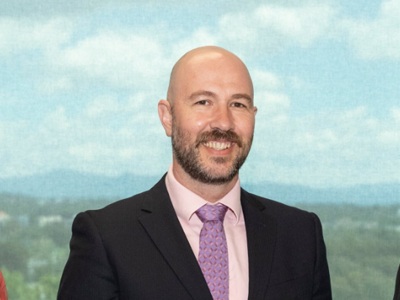 When disease modelling expert, Dr Peter Dawson, first heard reports of a 'transmissible disease' coming out of China that could easily be mistaken for the common cold, his heart sank. He knew that a pandemic could be on the cards.
"If you have a transmissible disease which is fatal in a small fraction of cases, where most people have only mild symptoms and they're just acting like they've got a common cold or a mild flu, then that's going to go right around the world," he explains.
He was right. The number of COVID cases worldwide is currently over 100 million, with over 2 million deaths.
What he didn't know at that stage was that a disease modelling tool he helped to develop would soon become a vital tool in the fight against COVID.
Dr Dawson, a theoretical physicist with the Department of Defence leads a research programme focussed on the use of modelling to provide better situational awareness of epidemics and biological attacks.
"Our work is focussed on developing modelling tools to enable us to detect an outbreak early and accurately forecast its spread," he explains.
"Those tools can then be used to support decision-makers and health officials in determining a proportionate response."
Prior to COVID, Dr Dawson together with scientists from Defence and the University of Melbourne had developed a tool called EpiFX to forecast outbreaks of influenza. That tool is now used by state health officials across Australia to prepare for and manage the annual flu season.
When COVID-19 data first became available in Australia, EpiFX was the only model capable of providing a meaningful four-week forecast, reliably projecting the course of the disease in an environment of rapidly changing mitigation actions.
Since that time, the tool has undergone rapid and continual development, and today, it remains the most accurate forecasting tool in Australia.
Dr Dawson explains that the use of the EpiFX in forecasting the flu provided many valuable lessons when it came to modelling COVID data.
"We learned a lot about how to adjust for complicating effects that appear in real health data," he said.
Effects such as changing testing rates, the public's evolving health-seeking behaviour, new strains of COVID, or the impact of a vaccine.
"Learning how to model when the data is getting complicated by all these different effects is something that filled a lot of our time."
Ironically, as the number of COVID cases in Australia declined, the challenges for Dr Dawson and his team increased.
"How do you forecast when there's not much data, particularly if there's a small outbreak in a state but there have been no cases in quite a while?"
One of the most significant enhancements to EpiFX has been the inclusion of Curtin University's 'R-effective estimate'. The R-effective estimate refers to the average number of people an infected person will spread the disease to, taking into account the health measures that are in place at the time and the general mobility of the population.
Dr Dawson explains that the inclusion of population mobility metrics data has made EpiFX one of the most capable tools in Australia, and possibly in the world, for forecasting outbreaks in an environment where there are few cases.
It is now one of three national forecasts used by the Australian Health Protection Principal Committee for COVID-19, made up of the Chief Health Officers of each state and territory.
For Dr Dawson, the need for accurate and reliable COVID forecasts is not going away anytime soon.
"New strains are going to continually crop up, just like they do for the flu," he explains.
And just like the flu, forecasting tools such as EpiFX will continue to be critical in managing and living with COVID-19.