A career full of mystery and surprise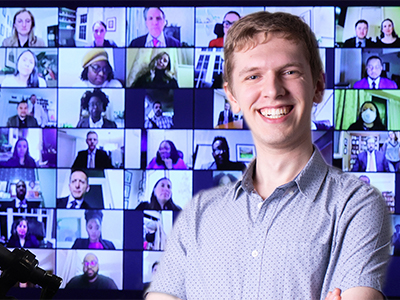 Luke Smith has moved from a cadetship into an exciting defence science career at DSTG.
Luke Smith first experienced life at DSTG as a summer vacation student. "I managed to join as a cadet during my last year of studies," he says. "I'm now continuing to work on a project developing autonomous vehicle decision-making robustness, for when these vehicles encounter new situations."
Luke explains that cadets receive a list of potential projects for which they can apply. "I chose this project because I preferred the uncertainty and hence creativity that it offered, compared with the more closed projects like 'help improve the signal processing of radar system X'.
"No-one has any idea how to solve this robustness problem yet, and with problems like this you can do research and surprise yourself with what you're going to come up with. Every day is a mystery. It's requiring me to learn a lot about machine learning and artificial intelligence (AI) – which is new to me."
Luke studied electronic engineering, physics and physiology, and interestingly it's his understanding of physiology that has been helping the most on the current decision-making algorithm research – knowing how the brain works has helped him postulate some new architectures.
0-100 km/h in a matter of weeks
"I started off with a literature search to get up with the current thinking in decision making and robustness to new situations," he says. "Then I settled on a paradigm that seemed interesting and plausible and started to implement it, reading more papers specific to that field. As I've been implementing it I've realised some significant flaws remain, and there is an absence of research into how we can overcome them. That's where my creativity is taking hold.
"Most of my ideas come while I'm driving in my car. I have a lot of time to think to myself and it's a great chance to analyse my own decision making and behaviour and wonder 'What principles am I using here to control the car?', 'How am I being an autonomous agent reacting to a new environment?' One day there may be an army of 'Luke-bot' autonomous agents driving cars around the world!"
One part of this research program is the development of the vehicle virtual testing ground, where Luke's robust decision-making algorithms will initially be tested. "One of my personal development aims is to eventually develop some physical prototypes," he says. "I'm incredibly excited about the prospect of some physical testing."
What interests Luke about the dawning field of autonomous vehicles? "The legal processes, or lack thereof, surrounding them. There's been very little progress by governments on how to control and regulate autonomy. I find that frustrating, because it leaves the tech giants to make the rules. I hope in the next few years we see people in politics who understand AI and who have a passion for bringing that awareness into the public's consciousness."
Luke says his new DSTG colleagues have been very welcoming. "I appreciate the fact that people here genuinely care about me, get alongside me and ask how I'm doing and how they can support me. And thank me for being part of the team. The camaraderie here is great.
"I feel safe knowing that other people have my back, and with that fear alleviated I'm inspired to work hard on my algorithms, knowing that one day my work might help soldiers by removing some mental stress and burden and lead to safer operations."