Defence connects with innovators at the cutting edge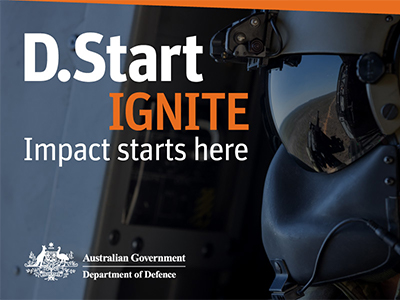 D.Start Ignite is an innovation program for Australian entrepreneurs working on emerging science and technology with potential military applications.
Defence is seeking to increase opportunities for Australian innovators to translate their ideas into Defence capability through D.Start Ignite. This program for start-ups, small and medium-sized businesses, and academic teams is funded by the Next Generation Technologies Fund and delivered in partnership with CSIRO.
D.Start Ignite connects innovators with potential users of their products and services inside Defence and defence industry. The program gives entrepreneurs an understanding of the Defence capability innovation system and assists them in validating their business propositions.
This is the only program offering participants the chance to pitch ideas directly to stakeholders that can help them identify possible military applications or suggest how they might refocus their efforts on other areas. D.Start Ignite is built on the ON Prime program created by CSIRO. It taps into the Australian innovation and entrepreneurial environment to rapidly transition innovative technologies into Defence capability.
During the eight-week program, teams receive business coaching and mentoring through CSIRO's network of specialists. They are also matched with a defence mentor – typically a former Defence employee or defence industry expert who can provide advice about working with Defence.
Teams that participated in previous rounds of the program have established 13 new business ventures, creating 42 jobs, and increased their funding through agreements with Defence as well as Accelerating Commercialisation Grants from the Department of Industry, Science, Energy and Resources Entrepreneurs' Programme.
Bright ideas
Participation in D.Start Ignite has contributed to the success of Sydney-based company DroneShield in exporting its products overseas.
DroneShield, which now has teams in the US and the UK, specialises in radio-frequency sensing; artificial intelligence and machine learning; sensor fusion; electronic warfare; and rapid prototyping and military-specification manufacturing. The company's capabilities are used to protect military, government and law enforcement organisations, critical infrastructure, commercial entities and VIPs around the world.
Oleg Vornik, DroneShield CEO and Managing Director, says D.Start Ignite helps organisations take their concepts to the next level, across a range of business and Defence-specific areas.
"It covers both sense-checking of the ideas for the business and a general framework of how to run a company," he says.
"Success in Defence – much like many other industries – involves lots of factors contributing to your mindset, to the product and to the ecosystem we work with. D.Start Ignite plays a part in all of these.
"If you have a bright idea that you feel can grow into a relevant product to solve Defence's problems and wonder where to take it next, this program is for you."
Queensland-based genomiQa is another Australian company to have benefitted from this approach. It was founded by a team from the QIMR Berghofer Medical Research Institute that participated in ON Prime:Defence (a precursor to D.Start Ignite) in 2019.
The company received an Accelerating Commercialisation Grant worth nearly $480,000 later that year to develop its whole-genome analysis pipeline for diagnosis and individualised treatment of disease.
Similarly, start-up company Quantum Brilliance, founded by an Australian National University team shortly after their participation in the 2019 program, received a grant of $828,000 to establish a state-of-the-art manufacturing facility for its room-temperature quantum computers.
The current D.Start Ignite cohort includes 24 teams at different points on the path to commercialisation and with a wide variety of technologies in development. These range from a subsea acoustic harbour-monitoring network that is non-threatening to wildlife and the environment to functional foods that could improve gut health and cognitive function for personnel exposed to battlefield stress.
This round of the program will culminate with presentations by the teams at two showcase events that will be hosted virtually by CSIRO on 20 July and 27 July.