Departing chief sees bright digital science future at DSTG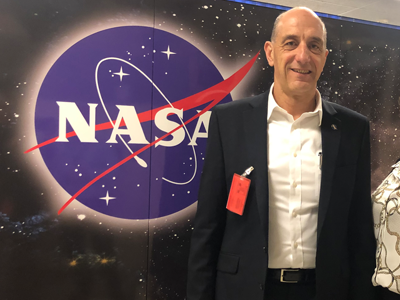 Outgoing Chief Peter Lambert says there is a lot to look forward to with DSTG's digital science infrastructure undergoing a major transformation.
Mr Peter Lambert, Chief of DSTG's Research Services Division since 2013, has overseen a transformation to a service division that is honed and tailored toward research-focused outcomes.
Research Services Division is comprised of a professional workforce of highly specialised engineers, technicians, computational scientists and other professional staff. Over Mr Lambert's tenure the division has evolved to become a provider of highly specialised and unique research capabilities from high performance computing to novel research engineering.
"I've been most proud of how the team has transformed into a research-focused team, successfully building essential research capabilities for the future of the Defence innovation, science and technology capability," says Mr Lambert.
"We are all excited about the tremendous and accelerating uptake by researchers of our secure, centralised large scale cloud computing and storage capabilities. The growth in scale and utilisation of our secure pilot High Performance Computing capability and the construction and integration of our new very large scale supercomputer at the Edinburgh site are also things to be really excited about," he says. "These will continue to move DSTG forward into the world of digital science."
Steering his team through change
Reflecting on the significant changes that he has overseen, Mr Lambert says for him it was important to continue to be aware of world's best practice, to be aware of what is happening in other research agencies, such as in CSIRO and other competitive defence research centres, and to make those practises and capabilities part of DSTG's plans for the future.
"I believe it is also important for any organisation to stick to its strategic plans and to be consistent and persistent in day-to-day decision making - making sure that every little decision leads forward to the future state," he says. "Having over eight years as Chief Research Services Division has helped me to be persistent in driving forward the necessary changes to RSD capabilities."
"One of my climbing mates who made it with me to the top of Mount Everest said to me that he was motivated by the mantra "Just one more step". He didn't think too much about getting to the top, more about just taking the next step which, I have to say, was incredibly hard up there. So as long as we keep taking one step at a time in the direction we want to go, we will eventually get there. Change at DSTG or any organisation, assuming you have a strategy or plan, is no different."
"I have always found DSTG to be a diverse, exciting and inspiring place, with lots of brilliant people. It's a place where research outcomes, if properly protected and transitioned to industry, can make a real impact for Defence and national security," he says. "I'm glad and proud that we've been able to deliver enhanced research capabilities to the defence innovation, science and technology ecosystem; capabilities that will deliver transformative impact for the Defence of our nation."
Dr Peter Shoubridge is currently Acting Chief Research Services Division.