Funding boost for CBRN sensor research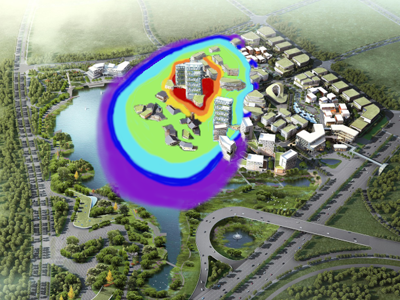 Australian researchers are set to receive $1.34 million in funding to develop innovative sensors that detect chemical and biological threats.
Chemical and biological agents, whether released on purpose or by accident, are some of the most challenging threats faced by Defence personnel and civilian first-responders. Early warning provided by advanced sensor technology is a crucial capability that helps to protect our frontline operators from these hazards.
Defence and the Victorian Defence Science Institute (DSI) are supporting the formation of multidisciplinary teams that will pursue ground-breaking sensor research with funding awarded under the DSI-Hazardous Agent Challenge (HAC).
The HAC is a DSI-led joint venture with Defence Science and Technology Group (DSTG) that is bringing together Defence subject matter experts, end-user communities, industry and academia to explore the complexity of operating in environments that are potentially contaminated by chemical or biological agents.
This initiative forms part of a co-ordinated program of activities across a range of technology readiness levels under Defence's Operating in CBRN Environments STaR Shot, which aims to enhance the Australian Defence Force's capability to respond faster and more flexibly to chemical, biological, radiological and nuclear threats.
The DSI, working closely with other states through the Australian Defence Science and Universities Network (ADSUN), invited the submission of multidisciplinary proposals in the context of a defined set of military and first-responder scenarios. In total, 35 teams from across Australia responded, and the proposals were assessed by an international panel of experts including specialists from the US Defense Threat Reduction Agency.
"Although $1 million was originally budgeted to support the challenge, the high standard and potential for impact of many of the proposals warranted the injection of additional funding to support a total of four projects," says Dr Axel Bender, Operating in CBRN Environments STaR Shot Leader.
The successful teams from academia, industry and a publicly funded research agency span a range of disciplines across the physical, life, data and engineering sciences. They are due to deliver prototypes for assessment by Defence within the next 18 months.
The projects that are being funded under the HAC are:
Gram-scale infra-red spectrometer concept for multi-analyte airborne chemical threat detection. University of Melbourne, Flame Security International.
Wireless platform for stand-off detection of chemical hazards. Monash University, University of Melbourne.
Sensing platform for defence-relevant airborne chemical threats. University of Melbourne, Monash University, Ideation Product Solutions Pty Ltd.
Porous photonic micro cavities – enhanced in-field toxic chemical sensor. Monash University, University of New South Wales and Queensland University of Technology.