Dale Lambert named as ATSE fellow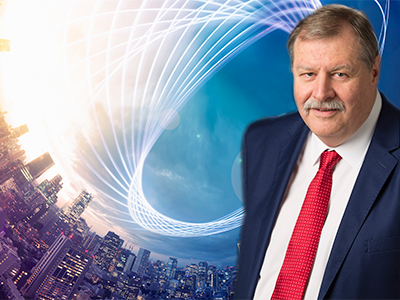 Defence scientist Dr Dale Lambert has been elected as a fellow of the prestigious Australian Academy of Technology and Engineering (ATSE).
ATSE is an independent organisation that brings together Australia's leading experts in applied science, technology and engineering to provide advice on how to solve the nation's biggest challenges.
Dr Lambert, who is Chief of the Cyber and Electronic Warfare Division within Defence Science and Technology Group, joins an elite group of about 900 fellows elected by their peers. He says he is looking forward to working with the academy's diverse pool of experts to tackle problems that are of genuine national importance.
"It's a great privilege to be an ATSE fellow," Dr Lambert says. "The background I bring from Defence, and academia along the way, gives me a unique slant on things and I think that's likely to be a valuable contribution.
"I bring a background in information fusion, artificial intelligence, defence, and all the local and international connections that I've developed through working in these areas. I really look forward to contributing."
Safeguarding society
Dr Lambert's current focus is information warfare. He explains that in the Industrial Age people directly controlled industrial machines, but in today's Information Age people instead issue commands to information environments.
These information environments control the industrial machines that provide our transportation and power supply; they control information systems that deliver our banking services and hold our health records; and they control our beliefs, with truth imparted to us through the news and social media.
"Control a society's information environments and you can control that society," he says. "Part of my role is to ensure that Australia is protected in this new era of information warfare."
For many years Dr Lambert has led research into information fusion, which is an important foundation for developing information warfare solutions.
"Information fusion is about taking different types of information – such as signals, imagery and text – and starting to build up a coherent understanding of the world automatically within machines," he explains.
"To use information fusion to build a humanlike understanding of the environment I implemented human semantic concepts and a psychological architecture in a fusion system."
His team developed simulated 3D worlds and animated character interfaces that enabled them to synthetically visualise events occurring in the world and to communicate with the fusion system about these events.
Virtual future
Dr Lambert observes that the Information Age is still in its infancy, but that doesn't stop him from thinking about what comes next.
"I believe we will enter a Virtual Age where the gaming community and the AI community join hands and push immersive technology from entertainment out into other industries like health, education, defence and commerce," he says.
"The Information Age enables us to see other things from a third-person perspective; the Virtual Age will enable us to be other things from a first-person perspective through virtual reconstructions."
Dr Lambert doesn't expect his vision to become reality for another 20 to 30 years, but he says this will completely transform our understanding of the world and the way we do things.
Far from being fazed by our rapidly changing world, Dr Lambert embraces the opportunities that change brings.
"I like change," he says. "I'm always looking at what's coming next, and what's coming after next."