Defence working in partnership to increase the nation's capability footprint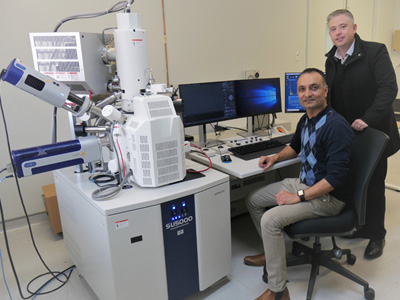 A $32m revamp of DSTG's testing and fabrication facilities has provided Defence with new and strengthened engineering capability and reinvigorated our ability to collaborate with industry and academia.
The Australia-wide Capital Refresh Program, led and facilitated by DSTG's Research Engineering team, will provide Australian researchers with ready-access to centralised, ultra-high end fabrication and test equipment.
Program leader, Ben Barona, explains that the refresh of aging infrastructure focussed on modernising and strengthening existing high-end fabrication equipment at DSTG sites, as well as procuring new fabrication and test equipment.
"The aim of the project was to provide targeted, specialised, onsite capability at each DSTG site across the country," he said.
New and enhanced capabilities include enhanced metal additive manufacturing; precision optics fabrication and metrology; and large-scale vibration testing: capabilities that pave the way for advancements in critical areas such as space optics, hypersonics, and complex rapid prototyping.
To take stock of what capabilities already existed and what were needed to support Defence's research objectives, the Capital Refresh project team engaged key stakeholders and facilitated working groups. This engagement reinforced that, while this investment was a much needed uplift to aging infrastructure, the requirement for ongoing investment to replace other aging infrastructure, and ensure technical refresh activity, is critical to ensuring support for the next generation of disruptive R&D to meet changing ADF needs. DSTG is reviewing and making improvements to its approach to asset management to inform the prioritisation of future investments.
"Our discussions centred not only on what capabilities were needed, but also where they should be located to enable rapid fast fail prototyping," Mr Barona said.
While the majority of equipment is housed onsite at DSTG sites, some of the infrastructure has been installed within partner universities.
"Engagement with our partners in industry and academia has been critical for the success of the project," Mr Barona explains.
"We've had involvement from the Australian National Fabrication Facility (ANFF), FII, RAAF, Micreo, Lintek, University of South Australia (UniSA), University of Adelaide, University of Queensland, Australian National University (ANU), RMIT, Macquarie University, and QinetiQ."
"Infrastructure Sharing Arrangements, similar to that which DSTG has had in place with the ANFF for many years, provides a significant boost in research capability, allowing the facilities to be developed and evolved by our partners, whilst still allowing us access to all new infrastructure and the expanding local skills base that will result," Mr Barona says.
The new, cutting-edge equipment has already demonstrated its value in delivering military capability.
As part of its support to the RAAF AWC PC21 flight trial, DSTG was responsible for the manufacture of new and novel PC21 doors, within a very short timeframe. "Not only are we delivering military capability in a speedy manner, the capability upgrade ensures our staff are able to keep up with the latest technology," he adds.
"By leveraging each other's capabilities, we will see the mutual benefit of being able to train and upskill our staff at these external sites, and their apprentices being able to benefit from our knowledge and expertise at ours."
True to the spirit of the One Defence Science and Technology capability strategic pillar, what the Capital Refresh Program has delivered is a truly integrated fabrication and testing capability, with the installation of equipment across the whole of Australia.
Chief Defence Scientist Tanya Monro has applauded the project.
"The Capital Refresh Program is the embodiment of what we are trying to achieve through the Defence science and technology strategy, More, together," she said.
"The program has delivered critical testing and fabrication infrastructure that will benefit the entire research community.
"Only by deeply engaging with our university and industry partners, by equipping our researchers with the best equipment and ensuring they have ready-access to critical facilities, as we have through the Capital Refresh Program, can we build the integrated and aligned sovereign Defence S&T capability that Defence demands."