Technology by Land, Sea, and Sky: 2022 Maritime RobotX Challenge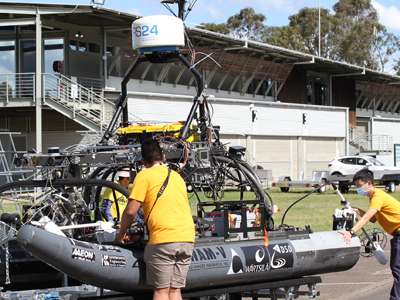 In November, twenty teams, representing five continents, descended on the Sydney International Regatta Centre to take part in the biennial RobotX Maritime Autonomy Challenge.
The RobotX 2022 Maritime Autonomy Challenge was hosted by RoboNation, in partnership with Defence in collaboration with the United States Office of Naval Research (ONR) and supported by the Next Generation Technologies Fund.
Open to teams of university and high-school students across the globe and designed to promote student interest in autonomous robotic systems with an emphasis on the science and engineering of cooperative autonomy, RobotX invites innovators to create autonomous vehicles that operate across air, land, and water to answer real-world challenges. The goal of the RobotX Maritime Autonomy Challenge is to expand the community of researchers and innovators capable of substantive contributions to the emerging field of autonomous and uncrewed, multi-domain vehicles.
Brendon Anderson, Research Leader Littoral Autonomy, Sensors and Systems, explains that competitions such as RobotX are helping to create the next generation of robotics specialists.
"Exposing these students to real-world technological challenges will build skills and professional networks that will follow them into their professional lives, providing them opportunities as autonomous systems play an increasing role in the future defence capability," said Brendon.
Each RobotX team is given the same basic boat platform, so they all start from a level playing field. The boat they get is the 16' Wave Adaptive Modular Vehicle (WAM-V) manufactured by Marine Advanced Research, a unique and very capable craft that has a suspension system and articulation system that allows the vessel to move with the waves, but so the centre platform stays completely stable. This provides a great platform for sensor packages -- the sensor packages stay stable, but the boat can handle bigger waves.
The teams themselves are then responsible for developing the propulsion system, sensing, LIDARs, computing hardware and software, which together turn that standard boat into a genuine Autonomous Marine System (AMS) that can complete the course all by itself. It's the decisions made by the different teams that turn the identical catamarans into very different autonomous boats.
In addition to creating autonomous WAM-Vs, the teams had to develop and integrate an uncrewed aerial vehicle (UAV) to accomplish various tasks as part of the challenge. Some tasks required WAM-Vs only, others only UAVs, and some task needed both WAM-V and UAV working in unison to complete the task successfully. This year, 18 WAM-Vs and 11 UAVs were up for the challenge.
Prior to entering any of the challenges, teams must demonstrate their ability to safely control their WAM-V and UAV, and each team is required to complete five out of nine tasks to qualify for the Semi-Finals Round. Tasks vary from "Follow the Path", where WAM-Vs must successfully navigate between a series of buoys [channel markers] whilst avoiding obstacles placed at random in the task area, to "UAV Replenishment", where UAVs need to collect a small, coloured tin from a floating helipad and deliver it to another floating helipad at a different location.
One of the most complex challenges, "Wildlife Encounter", consists of three floating platforms that each represent different Australian marine creatures: a platypus, turtle, and crocodile. Based on the animal identified (teams may use their UAV to aid with this), the WAM-V must react and manoeuvre around the platform in a different way, specific to that animal (avoid the crocodile, circle the platypus and turtle in a clockwise and anti-clockwise direction respectively). What makes this task more complicated is that these marine creatures are each represented by a unique spectral signature, only visible with a Hyperspectral Imaging (HSI) camera – it is not visible to the naked eye nor any camera that can only detect light in the visible spectrum. The camera provided to participants is OpenHSI: a complete camera and software hyperspectral imaging system developed by staff and students at the University of Sydney, and originally funded by DSTG. Ongoing work on the imaging system is currently funded by DSTG's Remote Undersea Surveillance STaR Shot as part of the More, Together strategy.
Brendon emphasised the importance of programs like RobotX to the work being done in Defence Science and through the Next Generation Technologies Fund.
"This competition helps stimulate the maritime autonomy ecosystem by providing opportunities for domestic and international students to compete in a collaborative environment, with the support of Australian industry and Defence partners. This provides not only opportunities for students as they start to consider their career pathways, but also provides our industry with a workforce that has infield experience in dealing with complex autonomy problems," he said.
RobotX also saw the development of some genuine and innovative international collaboration.
"The teams from Lake Superior State University (USA) and the Queensland University of Technology teamed up after they'd each suffered significant losses late in the lead-up to RobotX," reported Myf Austin-Eames, RobotX Project Manager.
"LSSU were going to be unable to ship their uncrewed surface vehicle, and QUT could not pull together a full team after restrictions due to the pandemic, so the two teams collaborated, with LSSU providing the 'people power' to put QUTs WAM-V in the water for the competition."
LSSU, QUT, and George Mason University (USA) were all awarded Judges' Special Award for Partnership & Collaboration, and Nanyang Technological University (Singapore) took out a Judges' Special Award for Collaboration after loaning their vehicle to the team from Pontifica Universidad Catolica de Chile (who were unable to get their vehicle to RobotX in time for the competition, due to shipping challenges).
This year, 'Team Minion' from Embry-Riddle Aeronautical University (USA) was crowned as the RobotX 2022 Champions, with 'Bumblebee Autonomous System's from the National University of Singapore taking out second, 'Team NYCU' from National Yang Ming Chiao Tung University (Taiwan) in third place, and the University of Sydney 'Sealions' coming in fourth.