Defence drives nationwide biotechnology alliance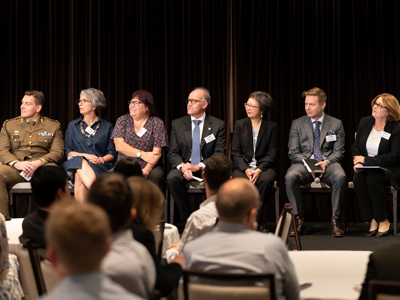 The health of the Australian community, our agriculture and our environment has long benefited from our relative physical isolation from the rest of the world.
But the threat is changing. New tools such as synthetic biology could lead to the emergence of deliberate attacks threatening human health, agricultural systems, and the environment.
Defence has brought together leaders from across the science community, from defence, academia and industry, to harness the country's considerable strengths in biotechnology, to address future challenges both on the battlefield and in civilian settings.
The Safeguarding Australia through Biotechnology Response and Engagement Alliance (SABRE) is focused on improving cooperation between academia, industry, defence, and national security.
"The alliance is designed to prepare the scientific community throughout Australia for future challenges and threats," says SABRE Director Dr Craig Rogers.
The research priorities will look forward to what we may face five to 10 years from now, where an environmental or biological attack could threaten our national food and biosecurity.
"We're talking about emerging threats such as synthetic biology, which both NATO and the US have put in the category of equivalent to weapons of mass destruction if used inappropriately," says Dr Rogers. "So Defence has an interest in getting prepared for those sorts of challenges."
While Defence has a niche capability in biotech, the wider Australian scientific community is rich in knowledge and experience.
"There is a lot of capability out there in biotech ecosystems, with entities like CSIRO, DMTC, NCRIS, universities, research institutions, and industry," says Dr Rogers.
"We want to leverage those capabilities and deliver dual-use applications where we can. That way, we can create scale and deliver a really effective economic argument to bring some of these emerging technologies and innovations to fruition," he says.
He and SABRE Alliance partners from biotechnology, defence, human health, genomics, bioinformatics, data analytics, synthetic biology, agriculture, advanced manufacturing, national security, intelligence and biosecurity took part in a special event at this week's Science Meets Parliament.
The 'Building the SABRE Biosecurity Alliance' event was an opportunity to showcase the exciting opportunities to work on Defence and National Security projects in the biotech field.
"In the past we wouldn't have had conversations between geneticists and AI or materials scientists," says Dr Rogers. "We want to create new collaborations and new capabilities, which will help us meet the challenges of the future," says Dr Rogers.
The SABRE Alliance spans institutions from academia and industry, the Department of Agriculture, Border Force, Home Affairs, the ADF and the broader Defence Department.
"They're all interested in these areas, and all play a crucial role in helping to guide and create effective strategies for building and investing in future capabilities and technology." says Dr Rogers.
The Science Meets Parliament event is important as a way to let scientific ecosystem know that the SABRE Alliance is available to help facilitate and support what they are doing, as well as focusing on its own SABRE-type projects, he says.
"We don't want to replicate anything that anybody else is doing or compete with anybody like that," says Dr Rogers. "There are not enough resources to do that and it doesn't make sense.
"We'd rather bring people along on the ride that doesn't exclude and alienate them. The more we do that, the more understanding all stakeholders have of how to work together to create that capability from concept."