All hands on deck for paralytic toxin research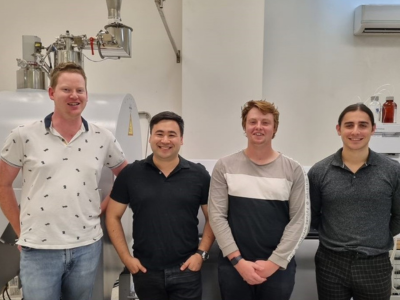 In a win-win exercise that led to undergraduate skill development and added to our ability to detect several potent neurotoxins, Defence scientist Dr Tristan Kilmartin engaged two students to develop analytical methods for three paralytic shellfish toxins*.
Scientists know a lot about Saxitoxin (STX, also known as Agent TZ). It's a naturally occurring and extremely potent neurotoxin that causes paralysis, respiratory failure, and death. It is also a Schedule 1 Chemical listed in Annex A of the Chemical Weapons Convention (CWC) of 1997. DSTG has well-established methods that can detect STX in complex biological matrices such as human blood plasma. These methods are regularly used in the annual Biotoxin Confidence Building Exercise run by the Organisation for the Prohibition of Chemical Weapons (OPCW).
Despite similar toxicities to STX, the three paralytic shellfish toxins chosen by Dr Kilmartin are not CWC Schedule 1 chemicals, and less is known about them. Summer Vacation Placement student Lachlan Torquati (RMIT) and Industry Experience Placement (IEP) student Daniel Smith (Swinburne University) spent their most recent summer holidays fixing that knowledge deficit.
'We initially trained Lachlan and Daniel on the necessary analytical techniques, and gave them minute quantities of the toxins to handle under direct supervision,' says Dr Kilmartin. 'Over the course of three months they developed two complementary methods for each of the toxins. The timing was excellent, as the 7th OPCW Biotoxin Confidence Building Exercise was scheduled to start during the project. I led a team of four (Mr Steven Torney, Lachlan, Daniel and myself) to undertake this exercise and we successfully completed it within the allotted timeframe, submitting a lengthy report identifying all the toxins spiked into various samples by the OPCW.'
Student shellfish success
Lachlan, part-way through a Bachelor of Chemical Engineering and Applied Chemistry, says his involvement was a great chance to see whether he should pursue chemistry instead of chemical engineering. 'It was a brilliant experience,' he adds. 'Tristan explained the work's relevance for Defence; if a paralytic shellfish poisoning event occurs somewhere in the community and we don't have this bank of knowledge, we can't detect for it. He taught us the lab basics, and then we were off analysing for those paralytic shellfish poisons that we had, and trying to detect them.'
'Beyond just teaching me, Tristan went out of his way to introduce me to everyone at team meetings, making me feel like a real part of the team and putting his trust in me to get on with the work by myself.'
Revealing the life of a scientist
Reflecting back on his 12-month industry experience placement at DSTG, Daniel reveals that it had its ups and downs. 'I learned a lot about myself, negatives just as much as positives, and that's really helped me to better myself over the year,' he admits. 'I've definitely found it's been a really good learning experience. I used a lot of my fundamental knowledge and was able to expand on those ideas. A big one that comes to mind is liquid chromatography; it really helped having a mentor in that area, especially as Tristan did his PhD in that field.'
'I am very grateful for the experience. I was challenged, I was pushed to figure out what I knew, and what I didn't know, and work to try and meet the expectations that I set for myself. We ended up with some useful methods to help us to identify and analyse the toxins. And my name's going to be out there as co-author on a couple of reports.'
Dr Kilmartin is pleased with the results, noting that 'DSTG has expanded its scope of analysis to include a number of new toxins, the team had successfully completed an international confidence building exercise, and had increased student engagement.'
Ready to contribute to science and shape the world we live in?
We have a range of Summer Vacation Scholarships, Industry Experience Placements and other opportunities to engage with DSTG.
Learn more about upcoming student opportunities here.
*The three STX analogues were neosaxitoxin, decarbamoylsaxitoxin, and decarbamoylneosaxitoxin. These are from a broad group of natural neurotoxic alkaloids, commonly known as the paralytic shellfish poisons (PSPs). Source: Wikipedia.