Hawk Lead-in Fighter fatigue testing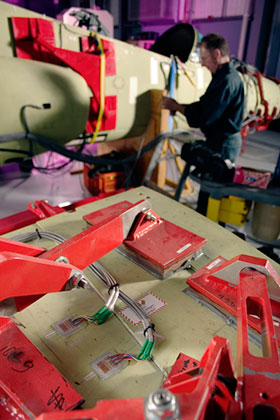 DST Group is undertaking fatigue tests on the Hawk Mk 127 Lead-In Fighter to establish the airframe's endurance limits.
Although fatigue tests had been undertaken by the aircraft designer, BAE Systems UK, on earlier models of the Hawk, DST Group determined that additional tests were essential to provide specific information on the Australian version of the aircraft as it is being used by the Royal Australian Air Force (RAAF). DST and BAE Systems then entered into a commercial business agreement to conduct the test in Australia.
The purpose of the tests is to establish when and where structural failures are likely to occur so that proactive repair and maintenance measures can be applied. This will enable fatigue-related incidents to be minimised and potentially increase the operational life of the fleet.
The fatigue testing is carried out in a rig equipped with hydraulically powered actuators that simulate the loads the aircraft typically experiences in flight. By subjecting the airframe to these loads and noting when and where fatigue cracking begins, findings can be drawn about the fatigue life of the aircraft. The test rig used for this work was designed by BAE Systems, and built, assembled and commissioned in Australia with DST support.
DST has the only capability to conduct such testing within Australia, having conducted full scale testing on many of the aircraft of the Australian Defence Force (ADF) since the 1950s, either on its own on in collaboration with Defence Forces and industry around the world.
Project update
Midway through 2014, we had completed 30,000 test hours of a planned 50,000 hour target, with the information obtained being used to support the on-going airworthiness of the Hawk fleet in RAAF service.