Passive infrared suppression systems for ADF aircraft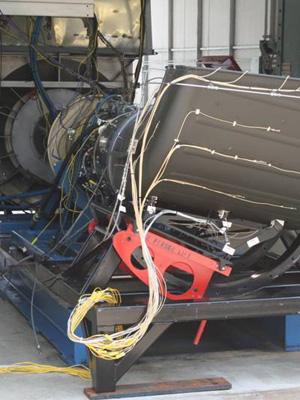 DST Group and GKN Aerospace Engineering Services Pty Ltd (GKNAES) has completed the detailed design for manufacture of an infra-red suppression system (IRSS) for the Australian Regular Army CH-47D.
DST and GKNAES developed two IRSS concepts using advanced aerothermodynamic, radiative and structural modelling methods. Sub-scale (1/5th) models for each concept were used in validation testing for the modelling at DST's Infrared Suppression Test Facility.
Full-scale flight test articles and prototype ship-set for the Concept-1 suppressor were delivered. Signature assessment and engine back-pressure tests on a static T55-714 engine were successfully undertaken.
The Concept-1 IRSS significantly reduces the vulnerability of CH-47D aircraft on deployment to shoulder-mounted IR-guided weapons. This activity was instigated and funded by Airborne Self-Protection Systems Program Office of the former Defence Materiel Organisation (now Capability Acquisition and Sustainment Group).
DST is now applying the capability in signature management developed and exhibited in AIR 5433 to other Australian Defence Force (ADF) aircraft.