Retrogression and re-ageing for corrosion mitigation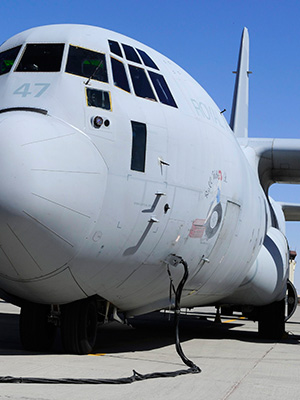 The repair of corrosion damage greatly prolongs aircraft maintenance, which costs money and reduces aircraft availability.
Many components in the Royal Australian Air Force RAAF C-130 and AP-3C are made from the high-strength aluminium alloy 7075-T6 which is very susceptible to corrosion. Retrogression and Re-ageing (RRA) is a heat treatment that fixes this deficiency while maintaining the alloy's mechanical properties.
DST Group has completed a three stage process to certify RRA for Australian Defence Force (ADF) use. It has also demonstrated RRA on components from the AP-3C Orion. This certification is the first of its type within DST's Aerospace Division and has established a pathway to rapidly transition future DST technologies.
By applying the RRA treatment to new 7075-T6 components before they are fitted to an aircraft, the susceptibility to corrosion of these components will be significantly reduced. This treatment will therefore help to reduce maintenance costs and increase the service availability of ADF aircraft to which it is applied.