Defence High Performance Computing Program (HPC)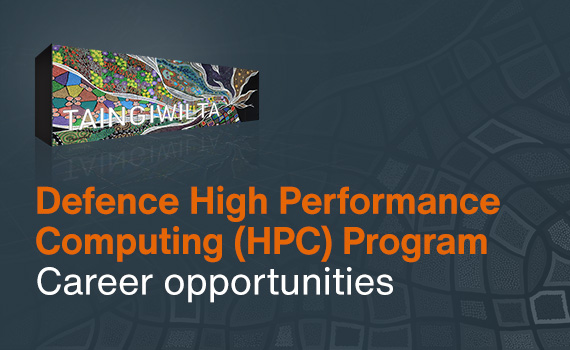 Defence Supercomputing - reducing sovereign risk whilst exploring the art of the possible!
The Defence High Performance Computing Program (HPC Program) maintains a world class computational ecosystem that is designed to provide supercomputing (also known as High Performance Computing (HPC) in support of modern data analytics and drive superior decision making through advanced modelling and simulation.
We draw upon our diverse backgrounds, skills, experience and knowledge to provide a capability edge to Defence across the strategic, operational and tactical levels.
The HPC Program provides the Department of Defence HPC capabilities and computational science expertise that enables Defence scientists and engineers to conduct a wide-range of research and development, test and evaluation and acquisition engineering activities. This partnership sends advanced technology to the Australian Defence Force (ADF) faster, more efficiently and with a greater certainty of success. Today, the HPC Program provides a complete advanced computing environment for Defence that includes unique expertise in software optimisation, secure system design and powerful high-performance computing systems. The HPC Program is managed on behalf of the Department of Defence by the Defence Science and Technology Group.
Super computers need super people
We are looking for talented ICT professionals who want to work on the leading edge of computing research; people who like solving complex computational problems, working collaboratively, learning new skills and knowledge, and who want to deliver results for Defence.
Our ideal candidates are high performing with a proven track record of achievement in their field. They are passionate about scientific computing research, are self-motivated, show initiative, and are innovators who strive to make a significant contribution to Defence outcomes.
The APS roles listed here are available now and have been advertised on APS Jobs/ Defence Careers and various external platforms. To access the relevant Information Packs and to apply via our official APS Recruitment Portal, use the following links.