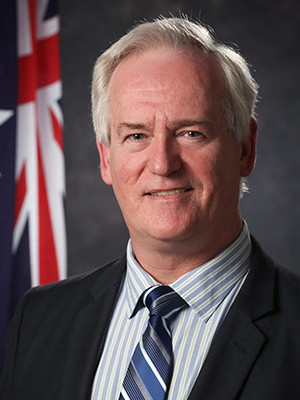 Mr Andrew Seedhouse is Chief of the Intelligence, Surveillance and Space Division (ISSD).
ISSD undertakes internationally recognised research and development into technologies aimed at enhancing the national capability to produce accurate, relevant and timely intelligence for both Defence and national security agency decision-makers.
Mr Seedhouse joined DST in 2017 after a long and distinguished career at the Defence Science and Technology Laboratory (DSTL) in the United Kingdom.
At Dstl Mr Seedhouse held a number of positions, including Innovation Lead and Head of the Centre for Defence Enterprise. As Innovation Lead, Mr Seedhouse was responsible for planning Dstl's defence and security innovation activities and championing innovation development. He worked with Ministry of Defence Headquarter to develop a new innovation environment, helping to deliver the objectives of the government's strategic Defence and Security Review.
From 2015 to 2016, Mr Seedhouse was Dstl's Chief Technology Officer. In this role, he championed S&T in Defence and supported the development of S&T capability to meet future demands.
Prior to this, Mr Seedhouse spent 18 years providing leadership to three Dstl departments setting S&T strategy, developing investment plans, engaging with industrial, academia and international agencies.
He has 28 years' experience in Intelligence Surveillance Targeting and Reconnaissance (ISTAR) and is the Executive Chair of The Technology Cooperation Programme (TTCP) ISTAR Group, leading the ISTAR programmes on behalf of the United States, Canada, New Zealand, UK and Australia.