Aircraft health and sustainment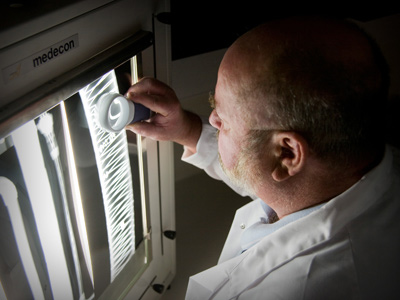 The Aircraft Health and Sustainment branch of Aerospace Division provides S&T capabilities to the Australian Defence Force (ADF) in the areas of safety-critical air vehicle systems; aircraft health technologies and systems; and aerospace systems sustainment analysis.
The effective sustainment of current and future generations of aerospace vehicles demands an integrated approach encompassed in high level maintenance and logistics concepts. This requires a detailed understanding of platform usage and failure mechanisms, plus an understanding of how advanced diagnostic and health monitoring systems can be used to mitigate risk and improve reliability, availability and maintainability.
The Aircraft Health and Sustainment branch examines critical systemic, technological and analytical dimensions of aerospace sustainment that are emerging in the twenty-first century, including how these may be applied to the current and future aerospace platforms in the ADF.
This branch supports the key drivers of safety (technical airworthiness) and supportability (cost and availability) of the force in being and in the technical risk assessment of ADF acquisition programs.
Vehicle dynamics and diagnostics
Our Vehicle Dynamics and Diagnostics group develops and assesses the prognostics and health management technologies for aircraft propulsion systems using big data analytics and deep learning. The group provides advice on acquisition and usage of aircraft health management systems and field support in vehicle health and diagnostics. Capabilities include vibration and wear debris analyses; analysis and assessment of health & usage monitoring system; acoustic signature analysis and management.
Our infrastructure in this area includes:
Helicopter transmission test facility
Small engines test house
Health and Usage Monitoring Systems (HUMS) simulation laboratory
Engines and fuel integrity
Our Engines and Fuels Integrity group assesses and validates propulsion structural integrity for low and high cycle fatigue; probabilistic analysis; aero-engine durability; research into ultra-high temperature materials and IR coatings; and failure analysis.
We provide operational support for ADF fuels and lubricants and conduct research into fuel chemistry and endothermic fuels.
Our research infrastructure in this area includes fuels and lubricants laboratories.
Airframe diagnostic systems
Our Airframes Diagnostic Systems group develops, assesses and provides operational evaluation of advanced structural diagnostic technologies for through-life support and improved availability of airframes.
Technologies include damage and corrosion diagnostics, environmental and loads monitoring, advanced non-destructive evaluation, experimental mechanics and energy harvesting for diagnostic autonomy.
Our research infrastructure in this area includes advanced structural diagnostics laboratories.
Aerospace systems sustainment analysis
Our Aerospace Systems Sustainment Analysis group undertakes detailed systems analysis of aerospace platforms to facilitate improved acquisition and sustainment decision-making over the capability life cycle.
Our group conducts multi-disciplinary research into systems engineering, asset management, lifecycle costing and information science.
Our research infrastructure in this area includes office-based computational facilities, shared data repositories and server-based data warehouses.