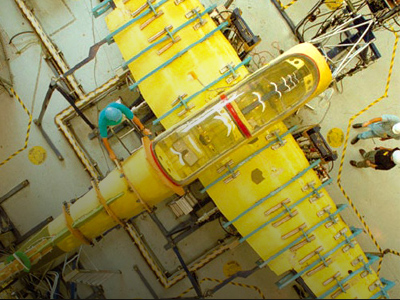 The Aircraft Structures branch of Aerospace Division undertakes advanced analysis and research for the provision of safety-critical structural integrity advice.
This advice informs the acquisition and effective management of the Australian Defence Force (ADF) aircraft structures and ensures their continuing airworthiness.
The branch underpins the ADF's aircraft availability, readiness and flight safety, as well as contributing to significant cost savings on their sustainment and ownership. Additionally, this advice informs the ADF on potential technical issues with new acquisitions, both during an acquisition phase and prior to a platforms selection.
Airworthiness and Life Evaluation
Our Airworthiness and Life Evaluation group integrates our knowledge of airworthiness standards and the capability to conduct research and apply innovative approaches to the evaluation of structural life, particularly through the interpretation of full scale tests, in order to provide airworthiness advice and solutions to Defence aircraft operating under Australian conditions.
Our infrastructure in this area includes computational facilities, specialist structural analysis tools, and an advanced lifing and loads analysis capability.
Emerging Aircraft Structural Integrity
Our Emerging Aircraft Structural Integrity group conceives, develops and champions emerging methodologies in determining and/or predicting aircraft lives, so as to provide a means of ensuring aircraft structural integrity under prescribed operational conditions.
Our infrastructure in this area includes advanced computational facilities, specialist lifing and structural analysis software, as well as exploratory models such as simulation of crack growth at the atomic scale. This group also has highly developed capabilities in crack measurement and fracture analysis techniques.
Structural Experimentation
Our Structural Experimentation group provides structural test capabilities that span the broadest possible spectrum of requirements and for a wide range of materials used in aircraft, covering small coupon tests for material characterisation to full scale tests of entire airframes for the purpose of determining their static strength and durability. The work of this group provides the critical evidence base to support DST's aircraft strength and durability research, as well as underpinning our airworthiness advice to the ADF.
Our infrastructure in this area includes fatigue and fracture laboratories, an instrumentation laboratory and two major (full-scale) structural test halls.