Cyber sensing and shaping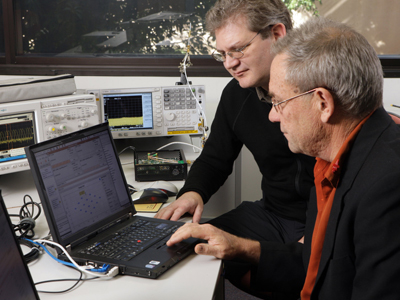 The Cyber Sensing and Shaping branch of Cyber and Electronic Warfare Division develops concepts, technologies and techniques for assessing, characterising and shaping communication networks to enable cyber operations in support of Defence and national security.
The branch provides expert advice on communications intelligence applied to 'packetised' communication.
Access technologies
Cyberspace is bridged to the real world through physical layer technologies, from antennas and RF systems that interface the electromagnetic spectrum, through to high-speed computational systems that format and modulate raw data.
Our Access Technologies group undertakes research and development (R&D) in such technologies for cyber access and tailored wireless links.
We have a strong client engagement in this area, and develop prototype solutions to niche problems.
Communications network research
The infrastructure of cyberspace is a vast and interconnected network of networks.
Security of cyber systems is critically dependent on the resilience of these networks to intrusion and manipulation and it is important that discovery of vulnerabilities, threats and malicious activity is undertaken towards a network gateway with a holistic view.
Our Communications Network Research group conducts R&D in the characterisation, modelling and exploitation of telecommunication core networks.
Communications signal processing
Modern communication systems comprise an increasingly complex and interlinked stack of protocols.
The physical layer incorporates modulation schemes designed for optimal security, robustness and bandwidth efficiency. A singular cellular handset will employ a variety of wireless communication standards to connect the user to cyberspace.
The complex processing of signals at this interface is an example of the R&D undertaken in our Communications Signal Processing group.
We conduct R&D in physical and cross-layer processing and analysis for the security and exploitation of telecommunications and consumer wireless networks.
Cryptomathematics research
The Cryptomathematics research group is is embedded within the Australian Signals Directorate in Canberra.
We apply cryptology-related research to solve complex mathematical and computing problems in a constantly evolving technology landscape, and our research is informed by these problems.