Distributed Combat and Mission Systems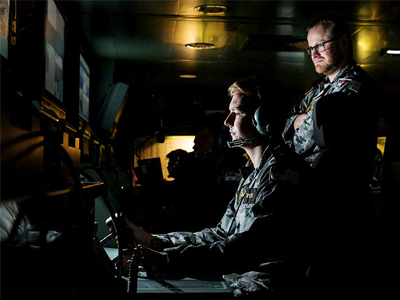 The Distributed Combat and Mission Systems branch of Weapons and Combat Systems Division conducts research and provides advice on information architectures; interoperability; information management; systems integration; and human systems for maritime combat and airborne mission systems.
The branch also advises on the tactical networking of the air, maritime and land-based assets that comprise the ADF's integrated joint force.
The branch plays a significant role in major Integrated Investment Plan air and maritime acquisitions and upgrades, including the Airborne Early Warning and Control system and Hunter Class Frigates.
The branch is positioned as the S&T focal point for tactical systems integration and interoperability, enabling superior joint integrated tactical decision making and enhancing ADF warfighting capability.
The branch is comprised of three research groups:
Adaptive Information Architectures
Combat Information Interoperability
Human and Autonomous Decision Superiority
Adaptive Information Architectures
The Adaptive Information Architectures group conducts research on next-generation tactical battlespace architectures that will enable modular, distributed, highly agile and networked tactical systems that are open to 'best of breed' functional applications for rapid response to changing tactical environments.
Combat Information Interoperability
The Combat Information Interoperability group conducts research on network integration and interoperability of ADF platforms into the Australian joint and coalition tactical environment; the management of tactical information between and within ADF platforms; and the integration of the combat or mission system within the platform.
Human and Autonomous Decision Superiority
The Human and Autonomous Decision Superiority group conducts research in autonomous and augmented human tactical decision-making in distributed tactical systems to provide superior decisions and warfighting capability.
The group seeks to optimise the integration of autonomous and human information assessment and decision-making across the automation spectrum from primarily human to fully autonomous.