Integrated Combat Capability Assessment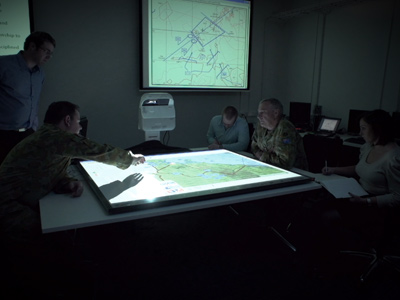 The Integrated Combat Capability Assessment (ICCA) branch of Weapons and Combat Systems Division conducts research and development (R&D) of innovative fit-for-purpose modelling, simulation, analysis and experimentation capabilities to enhance the combat capability of the integrated joint force.
A Live, Virtual and Constructive (LVC) modelling and simulation framework has been established to enable analysis and experimentation at three levels of aggregation; all-up missile system, integrated combat systems and system of systems.
The purpose of the ICCA branch is to then apply modelling, simulation, analysis and experimentation to conduct assessments to provide the scientific evidence to understand if the ADF has a combat capability advantage when operating as an integrated joint force.
These assessments will identify gaps in ADF combat capability and the ICCA branch has a lead role in analysing opportunities to close these gaps.
The following four groups have been designed and implemented to underpin the role of the branch:
Missile System Analysis
Missile Flight Experimentation
Combat Management System Analysis
Combat Capability Analysis
Missile System Analysis
Our Missile System Analysis group provides Defence with integrated, up-to-date, validated knowledge, analysis and applications of holistic missile system performance.
This group also develops options for future missile system concepts that address priority ADF capability gaps.
Missile Flight Experimentation
Our Missile Flight Experimentation group validates future advanced missile and weapon concepts through computational science and engineering, data analysis, electronic mission systems development and vehicle-in-the-loop flight verification.
This group also provides leadership of flight vehicle integration, certification and flight trial execution..
Combat Management System Analysis
Our Combat Management System Analysis group focusses on the tactical sensing to engagement decision phase of the kill chain.
This group undertakes modelling and analysis of current Combat Management Systems in the tactical engagement and researches and demonstrates future Combat Management System concepts enabling the distributed joint force.
Combat Capability Analysis
Our Combat Capability Analysis group leads the analysis of the ADF's evolving integrated warfighting capability in complex and contested environments to shape the ADF in integrated combat capability design, acquisition and application.
We engage to collectively understand the warfighting context; define the analysis scope and objectives; and to identify and utilise fit-for-purpose analysis methodologies.