Joint warfare and operations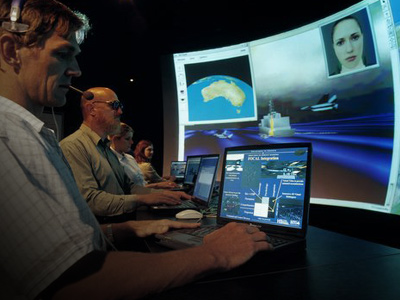 The Joint Warfare & Operations branch of Joint and Operations Analysis Division provides value to Australia's defence and national security through its capacity to mitigate operational risk and create a warfighting edge.
Joint Warfare and Operations mitigates operational risk through the provision of expert and impartial advice in the identification of current and emerging risk and by building partnerships to reduce and mitigate identified risk through innovation and technology solutions.
The branch creates a warfighting edge through the provision of expert and impartial advice and technology solutions that enable decision superiority in the anticipation, planning and conduct of operations and the preparedness of joint forces.
Joint command and control
Our Joint command and control group provides new C2 concepts and systems for joint warfare and operations. The group looks at command and control as a complex, socio-technical system. It contains a discipline focused on research into the implications of emerging technologies such as autonomy and their integration within a 5th Gen HQs. It is also the primary divisional link to C2 projects within the Integrated Investment Plan.
Social and behavioural sciences
Our Social & Behavioural Science group provides social & behavioural science (including evaluation) support to joint warfare and operations.
The group conducts research into the identification of emerging theatre-level risk and the anticipation, planning, conduct and evaluation of complex human-centric operations.
Decision support systems
Our Decision Support Systems group provides decision support for joint warfare and operations. This group conducts research and develops tools to support decision making across the spectrum of command activities including situational awareness, logistics and sustainment, planning and preparedness. It focuses on, and draws upon, the disciplines of data science and artificial intelligence/machine learning and leads the 'Preparedness & Emerging Contingencies' S&T effort in the division.
Theatre operations analysis
Our Theatre Operations Analysis group provides operations analysis support to joint warfare and operations. This group provides studies and analysis to support command decision making on operations and in operational units within Australia. It is responsible for raising, training, sustaining and employing the DST Deployable OA Pool as well as embedded and deployed analysts in HQJOC, Special Forces units, Deployed Joint Task Forces and on exercises. It operates as an OA 'hub and spoke' capability, with permanent teams in the laboratories (hubs) supporting rotational positions in various HQs (spokes).