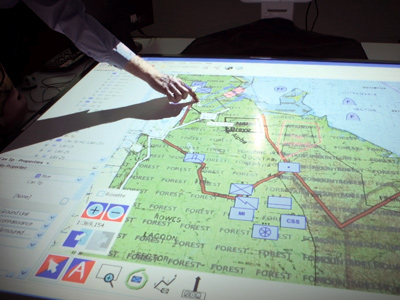 The Strategy and Joint Force branch of Joint and Operations Analysis Division provides timely analytical advice and application of the most appropriate analysis tools for evidence-based decision-making for the design and delivery of the future force.
The branch applies its knowledge of capability, capability-interdependencies and future military and national security contexts to contribute to the evolution of joint concepts and future force structure.
Extensive collaboration with national and international partners is essential to ensure access to leading edge research in emerging technologies and to ensure best practice methodologies in strategic analysis.
Strategic decision analysis
The Strategic Decision Analysis group develops and applies advanced high-level decision making and analysis approaches across the strategic centre focussing on the whole-of-portfolio, supporting decisions on prioritisation, integration, strategic risk and balance of investment. This group also includes a significant component on systems science which allows for the understanding, modelling, analysis and managing defence force systems-of-systems.
The group has expertise in:
Scheduling and portfolio analysis;
Cost modelling and visualisation;
Risk;
Systems sciences;
Integration and realisation; and
Prioritisation.
Joint force capability analysis
The Joint Force Capability Analysis group undertakes thematic strategic and force level studies which, importantly includes analytical design methodologies to provide the Strategic Centre with evidence based outcomes.
This group develops frameworks, tools and techniques to guide the department to undertake more efficient analytical studies. An important element is modelling and simulation approaches to base expert advice on.
The group has expertise in
Analytical methodologies;
Systems interoperability;
Strategic studies;
Joint studies; and
Strategic modelling.
Force effectiveness and experimentation
The Force Effectiveness and Experimentation group develops and applies advanced experimentation and simulation approaches in order to aid the analysis, design and integration of the force.
This group develops methods, models and analytical approaches in order to develop whole-of-force effectiveness measures and experimentation with greater rigour and more efficiently .
The group has expertise in:
Force experimental design;
Force simulation;
Experimentation decision tools;
Force experimentation methods;and
Analytical scenario descriptions.
Futures and concepts
Our Futures and Concepts group undertakes the identification, assessment and contextualisation of future strategic military and technology concepts and environment. The group undertakes futures and strategy analysis to inform plausible future environments and operating concepts, and the implications of emerging and disruptive technologies.
The group has expertise in:
Futures design approaches;
Elicitation methods;
Emerging technologies on-line analysis & visualisation; and
National security and Defence concepts and operating environment analysis.