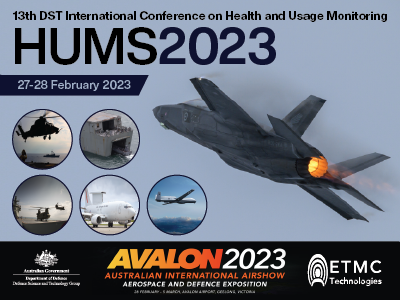 HUMS2023 (#HumsConf), the 13th Defence Science and Technology International Conference on Health and Usage Monitoring will be held at Melbourne & Avalon, Victoria, Australia from 27‑28th February 2023, in conjunction with the 20th Australian International Aerospace Congress (AIAC20).
Also happily, the HUMS Conference will be reunited in 2023 with the much anticipated Australian International Airshow (AIRSHOW2023) and the Aerospace & Defence Exposition (AVALON2023).
For full details, and to register, visit https://aiac.com.au/registration
This year, HUMS2023 registration includes access to three Conferences under the AIAC20 umbrella:
The 20th Australian Aeronautical Conference (AAC)
The 12th National Space Engineering Symposium (NSES), and, the main event,
The 13th International Conference on Health and Usage Monitoring (HUMS2023)
The Conferences run concurrently on both Day 1 & 2 (Mon 27th Feb–Tue 28th Feb) at Sofitel Melbourne on Collins.
The HUMS2023 Dinner, sponsored by ETMC, has long been a highlight of the conference, and tickets will be available to the first 80 HUMS registered delegates; it will be held on the Monday at The Bank on Collins - 394 Collins Street, Melbourne VIC 3000. Tickets are selling fast!
All registrations also include complimentary access to AVALON2023, the Avalon International Airshow—Aerospace & Defence Exposition on Day 3 (Wed 1st Mar) at Avalon. AIRSHOW2023 (public airshow) is the following weekend, but not included.
Registration fee discounts are available for Students, Retirees, and Members of Engineers Australia or Royal Aeronautical Society; morning tea, lunch and afternoon tea is provided.
Hope to see you there.
HUMS2023 Data Challenge
DSTG has prepared a Data Challenge for the upcoming conference HUMS2023. Registration for the data challenge is open from 14 Jun 2022 until 30 Sep 2022, with an extended results due date of 08 Nov 2022.
The data is from DSTG's Planet Gear Fault Propagation test completed in Jan 2022. This test was to simulate the later stage of a major helicopter gearbox failure.
During the test, a seeded EDM notch in the planet gear rim was successfully initiated into a real crack which was then propagated through the full width of the gear body.
A vibration dataset available to participants of HUMS2023 to detect, diagnose and trend the fault and its progression. The dataset contains 526 Matlab files of 4-channel hunting tooth averaged data. The hunting tooth average is designed such that both the planet gear synchronous average and planet carrier synchronous average can be derived from it.
The Data Challenge will award the team that makes the earliest convincing detection of the planet gear rim crack and the team that most accurately tracks the crack progression.
Registration and further information is available at https://humsconference.com.au/HUMS2023datachallenge
About HUMS Conference
The DSTG series of HUMS conferences commenced in 1999 at Fishermans Bend, Melbourne, Australia, and is an established biennial international event featuring health and usage monitoring and management for aircraft (fixed-wing, helicopters and unmanned aerial systems), land vehicles, marine vehicles, and other mechanical equipment. The conference brings together industry, academia, Defence and user communities to discuss the latest developments, research and applications.
Increasingly, platform health, at the sub-system, system or fleet level, is being managed using Condition Monitoring, Condition-Based Maintenance (CBM), and prognostic or predictive maintenance approaches. All these practices rely on health management systems providing data and information for decision support, mission assurance, availability, and safety of critical and high-value assets.
Key dates
20 May 2022 - Call for Abstracts Open!
1 Aug 2022 - Call for Abstracts Close
8 Aug 2022 - Notification of abstract acceptance
12 Aug 2022 - Early Bird Registrations Open
1 Nov 2022 - HUMS2023 Paper Submission Deadline
8 Nov 2022 - HUMS2023 Data Challenge submission extended due date
25 Nov 2022 - Early-bird Registrations Close
26 Nov 2022 - Standard Registrations Open
20 Jan 2023 - Notification of Paper Acceptance
20 Feb 2023 - Standard Registration Close
20 Feb 2023 - Final Submission of Slides Due (papers/presentations/data challenge)
21 Feb 2023 - Late Registrations Open
27 Feb 2023 - HUMS2023 Day One and Dinner
28 Feb 2023 - HUMS2023 Day Two and Conclusion
1 Mar 2023 - Day 3 - AVALON2023 - Defence and Aerospace Exhibition at Avalon
Topics
HUMS2023 topics include:
diagnostics, prognostics
condition monitoring & CBM
life and usage management
vibration and acoustic analysis
wear debris analysis
rotor track and balance
structural loads monitoring
sensors and algorithms
verification and validation
data science and data analytics applications
data management schemes
cost-benefit models
platform asset management
HUMS2023 Chair: Joanna Kappas from DSTG.
HUMS2023 Sponsors