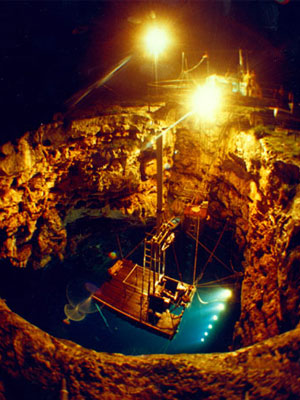 The Barra passive array sonobuoy is one of Australia's most successful Defence joint development projects.
Dr W.A.S. Butement, the first Chief Scientist within the Department of Supply, invented the concept for the sonobuoy, along with Henry d'Assumpcao, later Chief Defence Scientist. Both took out the original patent.
The Weapons Systems Research Laboratory of the Weapons Research Establishment (became part of DSTO) began work on the Barra project in 1964. The task was to develop a new sonobuoy system that could be deployed from aircraft and helicopters to detect, locate and classify quiet submarines and surface ships. An improvement of previous technology was that it provided accurate bearings on targets.
The sonobuoy consists of two parts: a surface float and a sub-surface canister that separate on impact with the water after being deployed from an aircraft. The canister releases a horizontal array of hydrophones that act as an underwater microphone picking up relevant data that is sent via the surface float to a sonics processor in an aircraft. Two or more sonobuoys working together permit the detection of multiple noise sources and their direction of movement.
In the initial development, an underwater test facility was established in South Australia. The trials undertaken here led to an improved, more efficient sonobuoy model. In 1967, sea trials in close collaboration with the Royal Australian Navy (RAN) and the Royal Australian Air Force (RAAF) were completed in St Vincent's Gulf and off Jervis Bay. Fully operational high-gain sonobuoys were developed with the assistance of Australian industry after 1971. During production, the sonobuoys were given the name 'Barra'.
From the 1990s, DSTO, (now DST Group) has worked with industry to undertake modelling, sea trials and development of a novel air-deployable sonar transmitter buoy and processor and display techniques to demonstrate the benefits of an airborne active acoustic system. The system has been tested on board a P-3C Orion aircraft and an enhanced version is under development.
In 1997, DSTO and the Australian Defence Force (ADF) signed an alliance agreement with Thales Underwater Systems (TUS) Pty Limited to exchange information on sonar systems technology and trends. This alliance has greatly benefitted the Collins class submarine, allowing many new sonar functions supplied by other companies, including small and medium enterprises, to be implemented on board the Collins.
Similar efforts under the alliance have improved the functionality of the TUS Spherion B anti-submarine sonar aboard the ADF's ANZAC frigates.
Today, the ADF, DST and TUS are cooperating to develop advanced sonars such as PETREL (the three-dimensional mine and obstacle avoidance sonar for frigates) and the TESS 2 Sonar Prediction and Performance Modelling.