Chemical 'lab on a microchip' wins DSTO Eureka Prize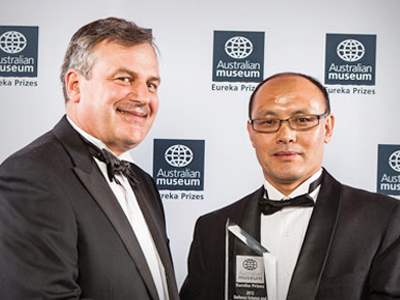 An innovative and portable plastic microchip sensor that can quickly detect toxic chemical substances in the field has won the 2012 DSTO Eureka Prize.
The Minister for Defence Science and Personnel Warren Snowdon said the $10,000 prize was presented to Professor Yonggang Zhu from the Commonwealth Scientific and Research Organisation (CSIRO) at the Australian Museum Eureka Prize awards function in Sydney.
Supported by the Defence Science & Technology Organisation (DSTO), the prize recognises outstanding science in support of Defence or national security.
"I congratulate Prof. Zhu for developing an innovative solution for the fast and reliable analysis of chemical warfare agents outside the laboratory," Mr Snowdon said.
"The prototype chemical sensor that Prof. Zhu has created has significant potential to benefit Defence as well as law enforcement, security and counter terrorism agencies."
"It will allow them quickly and accurately to identify toxic chemicals at the scene of the incident without using the services of a dedicated laboratory or specialist staff."
The hand-held device, suitable for identifying individual chemicals as well as the simultaneous detection of multiple chemicals, is a significant improvement on commercially available products which are bulky in size and costly to use.
"The most remarkable aspect of this innovation is the plastic micro sensor chip that does the sampling, detection and identification of the chemicals in one device," Mr Snowdon said.
The sensor is also capable of separating chemical warfare agents from harmless substances like soft drinks and petrol, which could be used to mask dangerous chemicals. It could also be applied to detect other substances such as explosives, pesticides, food contaminants and drugs.
"Given further development, this Australian-owned technology will result in a low-cost, portable system that could be mass produced using existing facilities in this country," Mr Snowdon said.
"This work has the potential to play a vital role in protecting Australia from terrorism and threats to national security."
Mr Snowdon said Professor Zhu's research was a world leading development in the growing field of microfluidics. Professor Zhu is Research Group Leader, Materials Science and Engineering at CSIRO.