Agreement to usher in enhanced security response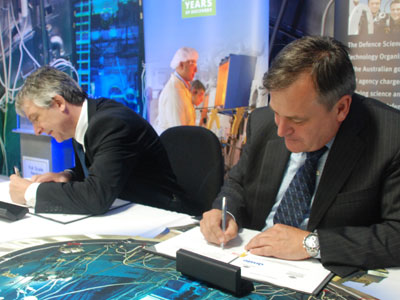 A new research agreement between two top Australian science and technology organisations will reduce risk for police and emergency services personnel and make the nation safer.
Chief Defence Scientist Alex Zelinsky and Australian Nuclear Science and Technology Chief Executive Officer Adi Paterson have signed an agreement outlining collaboration on a number of projects.
One of the most significant will be a whole-of-government radiological and nuclear gamma spectrum database, a tool to help counter threats to Australia's national security.
"Understanding radioactivity is crucial to developing the safest possible response," Dr Zelinsky said.
"The database will help emergency services personnel understand the material they might be dealing with and how best to safely manage it."
Dr Paterson said emergency services personnel dealt with serious situations, so it was crucial to mitigate risk.
"The thinking behind this project means a quicker and more effective response from emergency services, better protection for personnel and, overall, a safer Australia," he said.
The database will hold measurements of gamma ray signatures emitted by nuclear and other radioactive materials. This information will be made available to first responders and other national security agencies to help them identify the particular threat and appropriately deal with it. Importantly, the database will help save time and reduce the threat to emergency services personnel on the frontline.
The database is the latest of a series of collaborations between ANSTO and DSTO which has included building a robot with a radiological sensor payload aboard to allow remote detection of potential radiological threats.
DSTO has responsibility for coordinating whole-of-government science and technology research for national security.
ANSTO is home of Australia's nuclear expertise and custodian of the $460 million OPAL research reactor which is used for a variety of environmental, medical and industrial purposes.
"Both our organisations are committed to working closely together to achieve outcomes for safeguarding Australia," Dr Zelinsky said.
"This agreement builds on the successes of past collaboration between our two organisations and expands the scope of our cooperation beyond counter-terrorism to achieve broader Defence and national security outcomes."